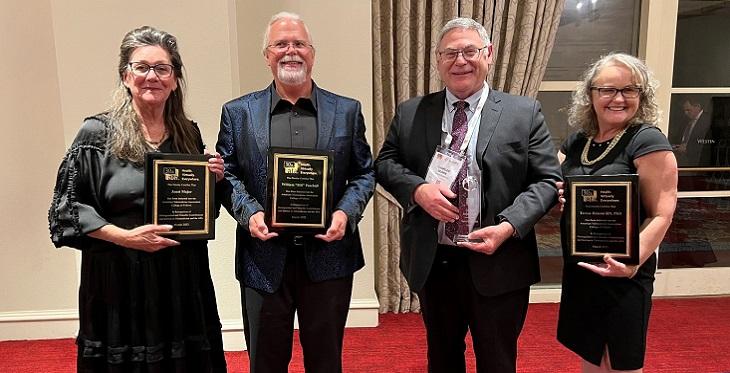 Janet Major, Associate Director for Innovation and Digital Health at the Arizona Telemedicine Program, based at the University of Arizona College of Medicine – Tucson, was recently honored as an American Telemedicine Association Fellow during the American Telemedicine Association annual meeting in San Antonio, Texas on Sunday, March 5, 2023.
Each year the Association recognizes members of distinction as new Fellows. Election to the American Telemedicine Association College of Fellows recognizes significant achievements in telemedicine, service to the general telemedicine community, and service to the Association. Joining Major in this year's class of Fellows are William "Bill" Paschall, Senior Vice President with Clear Arch Health, and Teresa Rincon, Senior Telehealth Consultant with Blue Cirrus Consulting and Assistant Professor at the University of Massachusetts Medical School and Graduate School of Nursing.
Major, with Arizona Telemedicine Program since its inception in 1996, has been active with the Association for almost three decades establishing several key special interest groups that elevated national and regional conversation, access, and learning around telemedicine.
"I am honored to join my peers and fellow champions in telemedicine as an ATA Fellow," said Major. "This celebrates my lifelong career in telemedicine with the network of experts in ATA that I have had the privilege and honor of working with for over 25 years."
Major was nominated by Arizona Telemedicine Program Interim Director Kristine Erps Stewart who read the call for nominations and quickly recognized that Major deserved to be honored as a Fellow.
"The Arizona Telemedicine Program has been a member of the American Telemedicine Association from the start. Dr. Ronald Weinstein was a founding leader in the association, and he encouraged ATP's executive team to get involved. Janet took that encouragement and started working behind the scenes with ATA and throughout Arizona," said Stewart.
Major describes herself as a "boots on the ground worker," who rolls up her sleeves to get things done to establish telemedicine projects and eliminate barriers unique to the Southwest, especially in rural, frontier, and tribal communities. She implemented technology and provided training for low bandwidth, by today's standards, video conferencing technology that utilized a single wired phoneline for connectivity to Navajo Area Chapter Houses beginning in the late 1990s. This demonstrated the power of technology that makes it possible for folks to access healthcare and remain in their own communities as much as possible.
In 2004, with funding from the U.S. Department of Defense, Major helped establish the Four Corner's Telehealth Consortium (FCTC) bringing together state universities in Arizona, Colorado, New Mexico, and Utah. Telehealth leaders from the Consortium worked together to identify and eliminate barriers unique to the Southwest. The FCTC progressed to a discussion group within the ATA and evolved into the Interstate Special Interest Group. Other contributions from Major to the industry include developing the telegenetics curriculum for the Health Resources and Services Administration-funded National Genetics Collaborative and teaching more than 500 certified genetic counselors how to provide telegenetics services.
Elizabeth A. Krupinski, Director of the Southwest Telehealth Resource Center and a past ATA Fellow, points out that Major has authored one of few articles on facility design in the Journal of Telemedicine and Telecare. With the ATP team she installed the program's telemedicine suite template in the Social Security Hospital of Panama in the Republic of Panama to enable telemedicine connections to rural tribal areas. She provided further advice for room design, as well as clinical integration of technology for healthcare at a distance in Mexico and Canada, as well as Alaska. In Arizona, she installed telemedicine suites and did acoustic room treatments in nine prison sites, community health centers and rural clinics.
"Janet is a dedicated educator and advocate of telemedicine, broadband and the use of technologies to improve patient care via telehealth. She regularly meets with providers and healthcare organizations around Arizona to spread the word about telemedicine benefits and help them build and grow their programs," said Krupinski.
Digital health navigation, a large part of today's conversation around telemedicine and national broadband expansion, has also been an important part of Major's work since 2000 while partnering with Indian Health Service Community Health Representatives, as well as regional promotora groups.
"Telemedicine has supported our state's economy since we began over 25 years ago. We now support applications and solutions which we have demonstrated are very critical for our communities so we can provide connectivity and technology to folks who may not ever own a cellphone," said Major.
"Public places for private conversations about our health is an important part of our future and our health and it's a topic I have always been passionate about as a technology and videoconferencing expert."