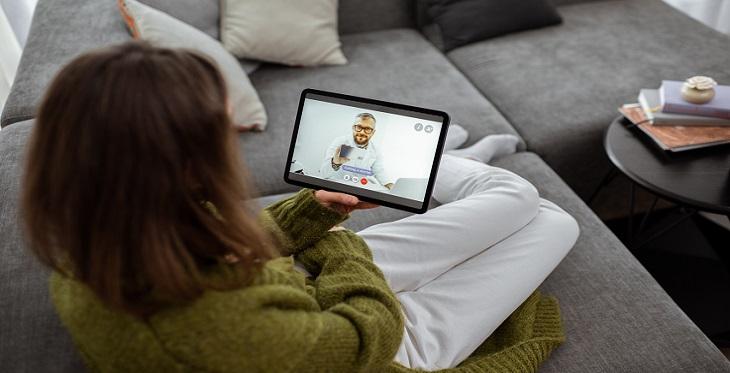 Early in the Covid lockdown in Las Vegas, Dr. Luis H. Medina-Garcia was front and center of almost every press conference and community conversation.
The public health emergency (PHE) put the infectious diseases specialist at the University Medical Center of Southern Nevada in the middle of Clark County's planning and communication efforts and forced him and his colleagues to finally take that deep dive into an area of practice they had eagerly discussed many years prior to the pandemic–telemedicine.
"There were plans for implementing telemedicine for a very long time. But I think economics put a wrench in that at an administrative level … Having a service line that you're going to launch without secure payment on the other side is just too risky for most health care operations. and even now it's still a risky proposition. But we believe that digitally enabled care is not the future of medicine–it is the present. It is the now," said Medina-Garcia, who joined UMC's telemedicine committee in 2015.
"If you list all the difficulties with delivering telehealth services, I think payment is the biggest of all."
The pandemic changed that, making telemedicine a reality for many hospitals and clinics throughout the country when the federal government issued the PHE, allowing regions like Medina-Garcia's to access funding. Medina-Garcia added that putting telemedicine in motion was also made possible because private industry was ready to step in with solutions.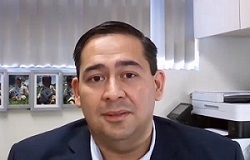 "It was a very difficult time for all front-line clinicians. But being an employee of UMC allows me luxuries that I could not have had in private practice. One of those luxuries is to be able to sit down, and with my partner, come up with infection prevention plans, treatment plans in collaboration with the other multi-specialties in medical and surgical about how to handle the situation," Medina-Garcia said.
UMC of Southern Nevada is a 550-bed hospital that serves Clark County, the most populated county in Nevada. It's also Nevada's only Level 1 trauma center, only verified burn center, and only children's hospital.
The pandemic offered a large learning curve to make sure the level of care UMC provides continued and grew.
"It was really an amazing time to be alive and to be an infectious disease specialist, and to be able to do good at that scale," he recalled. "That's one of the main reasons why I took the leap into developing and running the telemedicine program. … I mean it may sound delusional, but I believe it gives me an opportunity to help more people exponentially. As a consultant in infectious diseases, I can only help one patient at a time. … developing these tools to increase access to care to make better use of scarce resources–it's just a multiplier of the good things we can do."
Medina-Garcia said that's the mindset he currently works. Infectious disease remains his first love, and he remains excited about that field, working as Clinical Assistant Professor of Infectious Diseases at the University of Nevada Las Vegas' School of Medicine. Going into telemedicine, however, has provided him an area of practice that delivers care with greater impact.
"The past three years have developed a flourishing industry that's proven its capabilities to reach people and deliver high-quality, efficient, and safe care in almost every aspect of medicine," he said. "It's all upside to me."
"We are embracing telemedicine now. Our patients have embraced it. They're clamoring for it, for the convenience of it …"
Medina-Garcia, now Medical Director of Telemedicine Services at the University Medical Center of Southern Nevada, recalled that his first encounter with telemedicine in practice was with the University of Arizona Telemedicine Program's Medical Director Dr. Stephen Klotz.
After completing his internal medicine residency at the Maricopa Medical Center in Phoenix, Medina-Garcia accepted a fellowship with Dr. Klotz at the University of Arizona College of Medicine.
"I initially didn't want to do more training because I wanted to get into the workforce and start living a little," he said. "But my mentor said, 'Look, just trust me on this one. You're going to be very happy doing this.' And then I met Steve Klotz and the gang at the UA, and they changed my life."
Medina-Garcia said Dr. Klotz was a positive influence who not only taught him about infectious disease, but also how to handle the pressure of performing as a trainee and how to balance work and life.
During that time, Dr. Klotz and Arizona Telemedicine Program staff established a telemedicine project with the Arizona Department of Corrections at prison facilities in Florence.
"That was the first time I heard about telemedicine being done with Dr. Klotz and the prisons program he had for HIV," he recalled. "I never actually did those visits, but he showed me around and told me about the program. It was just amazing. I asked him, 'How do you get paid for it?' And he said, 'I don't, but it's the right thing to do.'"
"And so now, in my role here, obviously, I think of the economics of the program, of the investment, and, you know, being a good steward for those funds. But I focus more on the mission of achieving great things (like Dr. Klotz), things that have never been attempted before, work that is worth doing, not just for the institution, but for the patient and ultimately to hopefully help increase patient access, improve health equity."
UMC has nine clinics in the valley. Each has an urgent care attached, and, according to Medina-Garcia, a telemedicine component. There's a new pediatric clinic in development, and that will also have telemedicine. "The plan is that all these touch points have telemedicine. … we're in your pocket. We're in your cell phone everywhere you are."
Medina-Garcia said broadband capability in rural areas, as well as urban areas are an important part of the telemedicine discussion in Clark County. "We want to address barriers to our success, because ultimately our success is the success of the community. The mission is to increase access to democratized health care. … For us it's an opportunity in rural and urban areas to say, 'Look now that you gave them the connectivity, let's give them health care."