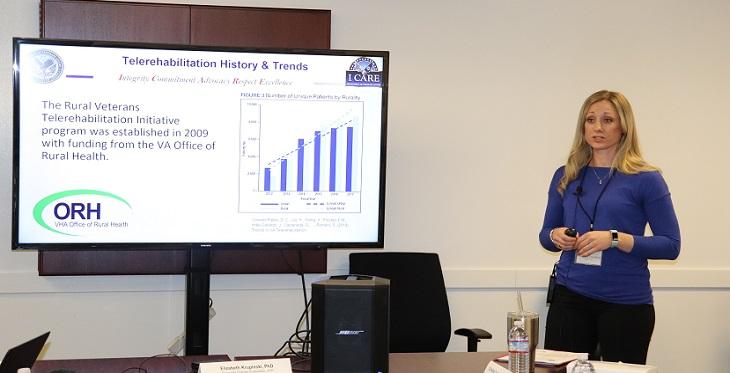 In a world of go-go-go, telerehabilitation is a way to slow down and connect with a physical therapist from your own home. This one-on-one video appointment allows a physical therapist to connect virtually using technology such as your smart phone or computer. As a functional movement profession, many people are surprised to hear physical therapy can be done through video. Truth is, this has been done for years.   
Video to home physical therapy will allow your therapist to see how you move in your home. This will guide your rehabilitation process and help find ways for you to be more successful. During these appointments, the physical therapist can give all their attention to the patient. Unlike many busy physical therapy clinics with other providers and patients, there are no distractions in the live video. The appointment is about the patient and their unique needs. This time together helps build a positive relationship between the patient and the physical therapist.
How many times have you left your medical appointment and realized you forgot to ask a question? Staying connected with your physical therapist through video is a quick way to follow-up. Your therapist can make sure you are doing your home exercise program correctly and give you challenges when needed. Using telerehabilitation, a physical therapist can also identify fall risks in your home. You can even discuss how to get up from the ground if you were to fall. Caregivers and family members can join video appointments too. Telerehabilitation has many benefits. https://www.choosept.com/resources/detail/6-reasons-to-consider-telehealth-physical-therapy
When it comes to your health, some conversations are more difficult than others. Private video appointments can give you an opportunity to discuss difficult things with your physical therapist. For example, talking to your physical therapist about pelvic health can be outside your comfort zone. Your provider knows this, but the conversations are important. From the privacy and comfort of your own home, you could have these conversations. Most times, an in-person visit is recommended but some follow-up appointments could be done by video.  
Video to home physical therapy appointments works for individuals of all ages. Career-focused individuals express an appreciation for convenience. They have less time off work and more time focused on what is important. Telerehabilitation is also used for physical therapy with children. Parents may prefer keeping a child at home to avoid the stress of packing up for an appointment. Older adults are frequently overlooked as a population to use these services, but most are in awe with simplicity. "I can't believe how easy this is." Telerehabilitation works. You can get the same or sometimes better outcomes compared to standard physical therapy.
Do not let your limited ability to make it to appointments stand in your way of connecting with a physical therapist. Telerehabilitation is one way to decrease the cost and stress of travel. Video to home services have even been used to help those in isolated or rural areas. You may need to talk with your provider or insurance company to see if these services are covered. Cash paying is sometimes an option depending on your location. Consider following the changing laws and regulations on telerehabilitation services (https://www.cchpca.org/).    
Health care is always changing and so may your medical needs. It is important to find a way to connect with your physical therapist to meet your unique situation. Why not use the convenience of technology to visit your physical therapist and improve your health and function? A physician referral is not needed to see a physical therapist (http://www.apta.org/Consumers/PatientHandouts/DirectAccess/). Be sure to ask to see the physical therapist's license and if he or she has any certifications. The world of telerehabilitation opens the door of opportunity to connect with a specialized physical therapist. Here is an easy way to find a physical therapist near you (https://aptaapps.apta.org//APTAPTDirectory/FindAPTDirectory.aspx).