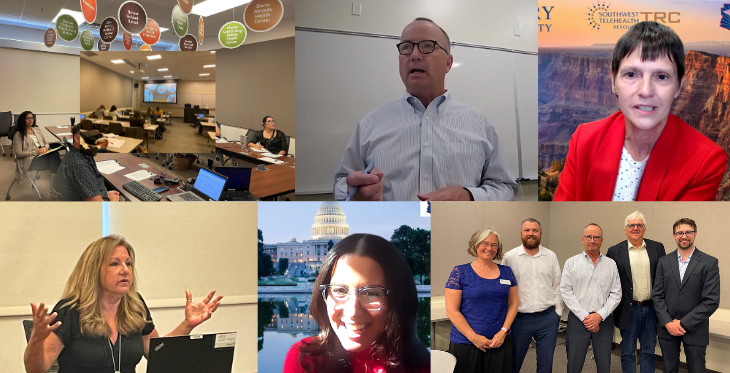 "This telehealth conference has been over a year in the making. We've been wanting to do this for some time ... I'm thrilled that this is happening," John Packham said, welcoming healthcare providers gathered at University of Nevada–Reno, simultaneously connecting with others located in Carson City at the Nevada Health Centers, Las Vegas at UNLV, and virtually.
Packham, Associate Dean for the Office of Statewide Initiatives, University of Nevada–Reno, School of Medicine, added the timing of the conference was perfect with the dust setting on the pandemic.
"We've had more than two or three years to kind of digest what worked and what didn't work during the pandemic when it came to remote technologies, telehealth applications, and so forth," Packham said.  "... the timing is good for us to be having this conversation, and I'm thrilled that it's happening in the State of Nevada."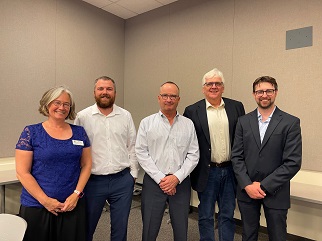 The conference, Nevada Telehealth: Moving Beyond the Pandemic, a one-day conference organized by the Southwest Telehealth Resource Center on Thursday, July 13, included conversation around state, regional and federal policy updates; innovative Nevada telehealth provider implementation experiences, Project ECHO updates; Nevada broadband update; and what's next for Nevada telehealth.
"This was such an exciting meeting and so unique in a novel hybrid mode. Being able to seamlessly connect virtually three sites with in-person groups of healthcare professionals and a few additional speakers from across the country created a truly interactive setting that facilitated the exchange of information and ideas between the sites," said Elizabeth Krupinski, director of the Southwest Telehealth Resource Center.
"I know I learned a lot, especially from our Nevada colleagues, and really felt a part of the whole group even though I was thousands of miles away. This is what telehealth is all about."
Presenter Highlights
The first presenter on the conference agenda was attorney and University of Arizona James E. Rogers College of Law professor Tara Sklar, Associate Director Telehealth Law & Policy, Arizona Telemedicine Program & Southwest Telehealth Resource Center.
Sklar, who is based in Washington, D.C., began examining telehealth legislation in Nevada, but "particularly in how it relates to what's happening across the country and in our Southwest region."
"The big news for Nevada that I think Dr. Packham and others are incredibly excited about is that you did get parity with SB 119 to a continuation of coverage at the same rate that for telehealth services as it would be for in-person," she said.
Many states currently have parity for telehealth services. Sklar said 21 states have parity. "Nearly all the states have coverage of some kind, but that's not necessarily at the same rate as it would be for an in-person service. …  interesting to consider where we are as a country right now, when we think about parity for telehealth services."
The Southwest Telehealth Resource Center's region—Arizona, Colorado, Nevada and New Mexico--is 100 percent parity now, she said.
Sklar presented additional info on the importance of audio only telehealth, of which most states providing Medicaid allow for audio only. Data shows that most older patients of color prefer audio,  while younger patients prefer video compared to older patients who prefer audio.
Corrie Nieto, director of Telehealth Services at Nevada Heath Centers in Carson City, discussed optimizing virtual care. One strategy her organization has focused on since the pandemic ended is a strong marketing plan.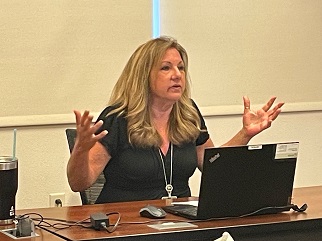 "People were telling me we're the best kept secret, right. And it's not like we weren't marketing, we just weren't marketing effectively I think," Nieto said.
"The easiest thing we did is put a button on our web page that says 'request your virtual appointment.' We get five patients a day through that on average, which is good for us."
Next, they looked at demographics in their virtual care program. One group was women over 40 years old. They created a focus group and from that put a series of ads together, and from there launched a campaign on Google, Facebook, and Instagram.
 
"The really cool thing is, when you launch a plan like this, you get these great analytics. And so you can constantly change your ad. ... I ran the numbers last night," Nieto said.
"From the time it launched in November of 2020 through June of 2023 the highest clicks came from women 65 and over. So, it isn't the younger  crowd. Now, I will say, in the last few months it's been in that 35 to 44 range, I think, though in the beginning it was 65 and over. So, I think we'll see more changes as this goes on."
David Brems, telehealth operations director at Intermountain Health, Desert Region, put up a satellite image that highlighted larger populations through the amount of light coming from those areas. From Brems perspective, it's important to think of the areas that are dark—those are the rural communities who need telemedicine the most.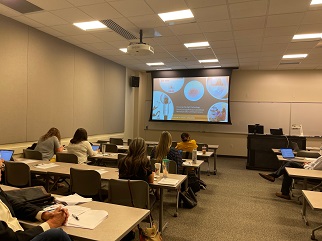 Intermountain Health's priority is working with patients on digital navigation. This includes using artificial intelligence to help patients have better outcomes.  
"Digital health enhances the efficiency of health care, delivery, and to make a better patient and consumer experience. (For example) I have a sore throat. It's 7:30 p.m. Oh, no, my doctor's office is closed. What are my options? Urgent care? Well, they close at 9. I've got to hurry up and get there. Or can I just get on my phone? Can I go to an app? Can I connect with the virtual provider? Of course, I can."
Troy Jorgensen, Senior Program Manager of Project ECHO UNLV started off with history on Project Echo leading up to the impact it's made in Nevada.
"We are a form of telehealth, as I mentioned, and really our goal is to maximize specialty care resources that we have here in the state. So, as many, you know, we've got Reno, and we've got Las Vegas, and that's where the specialists live. Those in rural and underserved areas really struggle with accessing specialty care sometimes," Jorgensen said.
"What we do is we bring together interdisciplinary teams and hold regularly scheduled video conference sessions where providers from across the State, in fact, across the western region, and essentially get direct access to that specialist."
Project ECHO also provides continuing education credits, but the goal of Project ECHO is for primary care teams and other providers to learn from each other and collaborate effectively all for the benefit of patients throughout the region.
 
Janet Major, associate director of Innovation & Digital Health for Arizona Telemedicine Program & Southwest Telehealth Resource Center, was the final conference presenter.
"I am so excited to be here today, and we've been waiting for this. We are looking forward to having these types of events, but with the added addition of sharing lunch with colleagues and being able to visit and network and be in the same room," Major said.
Major remarked that we live in a very interesting time, with the buzz centered on digital equity. Major believes that telehealth has always been about equity. Telehealth and telemedicine can't happen without the "tele."
"Moving forward is that we're all involved legislatively, as well as administratively, to promote the idea that we can provide better digital equity than just about anybody. If we can help work on investing this money and infrastructure to develop broadband and connectivity in the pockets of our state that don't have it ... that means we can offer more services, right?" Major said.
Panel: What's Needed Next for the State of Nevada
Before the end of the conference, several Nevada healthcare leaders came together in a panel moderated by Dr. Krupinski from her office at Emory University with panelists in Reno. The panel, What's Needed Next for the State of Nevada, included Sklar and Packham, as well as Blayne Osborn, president of Nevada Rural Hospital Partners and Keith Clark, CHHCP, Director of Rural Programs.
When asked by Krupinski if there was any particular Nevada Legislation that helped move the needle for telehealth, Packham was positive.
"I would say there were maybe eight or 10 bills that I think merit that potential moving the needle. I thought it was pretty bullish, but I don't think we accomplished as much we could, but I think on health workforce it was one of the most productive sessions ever," Packham said.
 
Clark was asked about rural communities, and how legislation and telehealth impacts Nevada residents.
"I made father-of-the-year moving my teenage kids to (the rural community of) Elko, Nevada. So I live it," he said. "I appreciate the work many of you do. We need it."
As an example he brings up a friend who has a four-and-a-half-hour drive for cancer treatment and more. "We're not going to solve all of that with telemedicine. … but it is making a difference in peoples lives. It makes a difference."
 
Osborn, asked about rural hospitals in Nevada, said this last Legislative session was one of the best for rural hospitals.
"That started first with a balanced government, more balanced government that we've had in years past. We had a Republican governor. We had a Democrat majority legislature, and rather than this gridlock that we see a lot of times in in D.C. and elsewhere, we actually had a very collaborative, very committed process, this time around," he said.
SB 241 was a big win providing a cost-based, outpatient reimbursement system for Nevada Medicaid.
"We've been working on this for years. This time was different," he said.
He added that it will take time for it to get in place, but once it does, it will help alleviate the financial suffering many rural hospitals are experiencing.