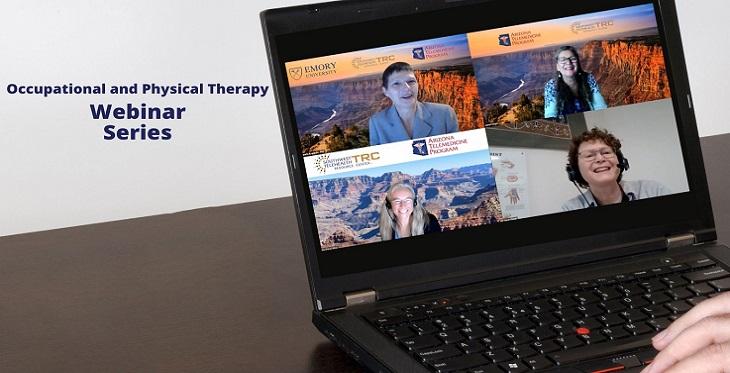 With more and more people using telehealth applications since the pandemic, one education expert asked how to expand training to include Physical Therapists and Occupational Therapists
According to a recent study, one in five adults polled about health care during the coronavirus pandemic said that they or someone in their household delayed receiving medical care or were unable to get care, due to office closures or shutdowns.
Although the pollsters focused questions about doctor or dental appointments, providers across the board experienced disruption in their specialty areas, including Peggy Stein, OTD, OTR/L, CHT, an Occupational Therapist in Oregon.
Occupational therapy, or OT, focuses on how people perform activities that are most important to their daily lives, so for people who need it, missing out affects quality of life, according to Stein.
"OT is important to assess the ability of people to participate in usual activities. Work is important and many people equate occupation with work. However, life involves more than work. Participating in life includes taking care of ourselves, our family and friends, pets, home, yard, or attending to community. These are all 'occupations'," Stein said.
"The state did halt therapy for a few weeks, and many providers had upheaval for several months," she said.
And while Stein eventually returned to her practice, the buzz surrounding providing telehealth continued in the medical and therapeutic communities.
"Back in March 2020, we hosted a webinar. We had numerous occupational therapists, physical therapists (PTs) and speech language pathologists (SLPs) in attendance; more than we have previously seen attending our telemedicine training programs," said Melanie Esher-Blair, MAdm, Distance Education & Event Coordinator for the Southwest Telehealth Resource Center (SWTRC) and the Arizona Telemedicine Program (ATP).
"They wanted more information on how to put the 'tele' into their scope of practice to maintain continuity of care for their clients," said Esher-Blair.
She said she knew the SWTRC and the ATP had the experts for developing a program.  Both OT and PT national associations have information regarding how telehealth fits into the scope of practice, so attendees of the March webinar agreed creating a training around telehealth was important. An interdisciplinary team worked together to come up with the Occupational and Physical Therapy Webinar Series.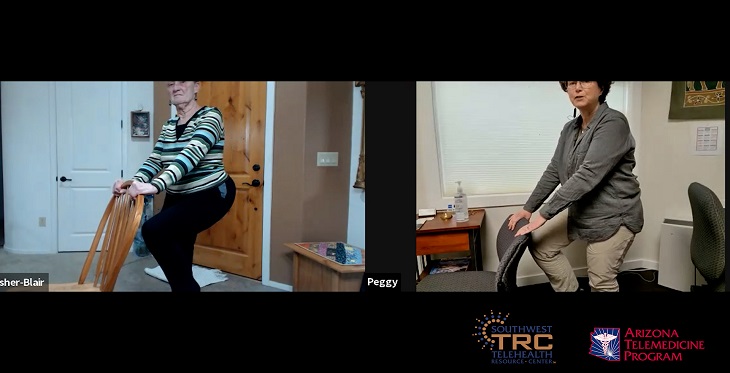 One of the team collaborators said the training was truly needed and went beyond training, into the area of networking.
"I had attended a few of the Telemedicine workshops & generally found that I was the only OT participating," said Mary Schmitz, OTD, OT/L, an occupational therapist living in Arizona.
"I thought that by reaching out to Melanie, she could help in networking among disciplines so that OT practitioners could obtain training, but also educate the physicians that already participated in Southwest Telehealth Resource Center and Arizona Telemedicine Program trainings," said Schmitz.
Beyond the pandemic, the collaborating group agreed telehealth is here to stay, even after the public health emergency is over.
"Telerehabilitation has been around, but the pandemic pushed the need to practitioners who never had experience providing care from a distance," said Esher-Blair.
Baby Boomers are aging and many find telehealth appealing, when it comes to OT or PT. An article from the American Physical Therapy Association says accessibility, home safety, success rates and time savings are just a few reasons tele therapy is great for the patient.
And as far as insurance – important to providers and patients, alike – many healthcare advocates are talking about the national Expanded Telehealth Access Act (H.R. 2168/S. 3193), which would make permanent the temporary policy that allows audiologists, physical therapists, occupational therapists, speech-language pathologists, and other providers to deliver and bill for services provided via telehealth under Medicare.
Supporters hope the bill will be passed, and also agree there needs to be training of providers, best practices and regulations put into place in the field of telehealth.
"It takes practice learning new skill sets to be able to turn a hands-on modality into a virtual session. Clear, concise communication along with building rapport and trust are vital for positive outcomes in a telerehabilitation encounter.  We were able to provide that in our series," said Esher-Blair.  "We're excited to provide this opportunity."
To learn more about the Occupational and Physical Therapy Webinar Series, and all of our programs, check out:
https://southwesttrc.org/
https://telemedicine.arizona.edu/
And head to this link to watch a video about the OT/PT series