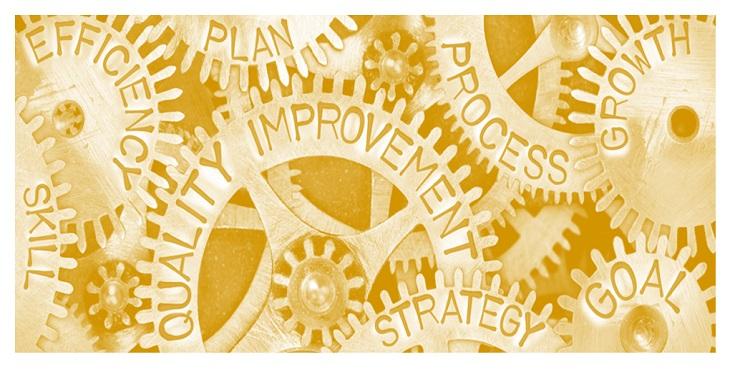 In hopes of sparking renewed commitment to applying improvement science to telehealth, we offer this Telehealth QI and QA Miniseries. Today is the second in the series.
Many people are confused about plan-do-study-act (PDSA) cycles, and I am here to set everyone straight! Dr. Don Berwick has called the PDSA the heart of the Model for Improvement. However, after many years of helping health care organizations build skill around PDSAs, it seems to be a tough nut to crack, despite its being at core of why humans are such a successful species. The more PDSAs and the faster you do PDSAs, the faster your learning and progress with improvement will be. Here are a few pointers.
Hit the PDSA easy button for staff. Many organizations make designing or submitting an idea for a PDSA too difficult. For example, staff shouldn't
have to fill out a form online or wait for approval from the QI committee that meets once a month.
Find a way to easily track PDSAs. Many organizations will consider running a PDSA and then realize they tested the same change two years ago but can't remember what happened. Often just keeping a running set of slides with a summary of the PDSAs can help or try a will organized filing system or an Excel spreadsheet. If you have a great idea on how to do this contact us!
Use a standard approach to PDSAs.
Before you start, be clear on the objective. What is it that we're trying to improve or fix?

Specify the single change being tested. A common mistake is trying more than one change at a time. If you try more than one change, how will you know which one resulted in improvement to the process?

PLAN




Include what questions you have as you think about testing this change. If you don't have any questions, that's okay. Don't force it.

Make predictions – what do you think will happen?

Write out the steps for the plan.

Include the communication plan. Not having a communication plan is a common mistake! Who needs to know about the change? Who will be testing the change? Are there changes to the workflow? Who needs to know? Do supervisors/leadership need to be in the loop?

Write out the specifics for the collection of data. What and how exactly are we collecting the data? Who will collect it? When will we collect the data (e.g., baseline data from previous month then every day for two weeks)?

DO




Just carry out the test of change, start collecting data, adjust as needed, begin analyzing the data, etc.

STUDY




Complete analysis of the data and capture what was learned as well as any qualitative data such as lessons learned or feedback from the staff who carried out the change.

ACT




There are three possible options based on the STUDY part. Adopt the change as is. Adapt the change. Abort the change.
Create a culture of quality by sharing PDSAs broadly and making sure everyone is savvy on the concept, process, and jargon around PDSAs. It can be helpful to have a "Bring a PDSA to Lunch" day where people share and provide peer reviews of completed PDSAs.
And remember…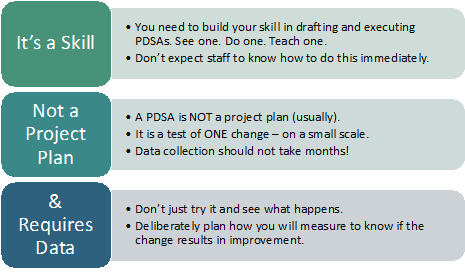 Resource: PDSA Worksheet
Use the SWTRC Contact Us form to share your telehealth measures and/or experiences with telehealth quality improvement.