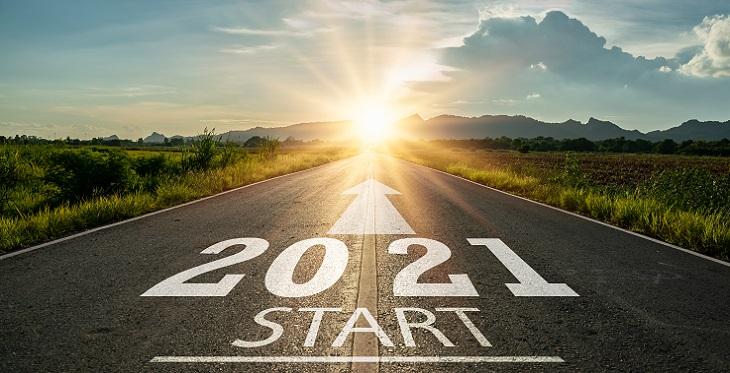 I don't think I need to say why everyone was more than ready to say goodbye to 2020. Even New Year's Eve was probably the most subdued we've ever had. It was sad to watch the ball drop in NYC without a soul in site, but we stayed up anyway by watching old Abbot and Costello skits from the Colgate Hour – amazing what you can find these days and it's hard not to laugh at "Who's on First" no matter how many times they do it.
What's to look forward to in 2021? Infinite possibilities! New Year's offers the opportunity to envision all sorts of new and exciting things ahead and to reset the course of our lives and events. I have high expectations for 2021, saying goodbye to the trials of yesterday while holding firmly to the triumphs and lessons learned last year. The road ahead is wide open and our gas tanks are full – drive on everyone to new adventures!
You may say, what triumphs were there in 2020? For telemedicine, as most people know, there were actually quite a few. Again, I don't think I need to repeat what we all know in that much detail – telemedicine came into its own. Although not as we all envisioned it happening, it did. Some stars were clearly aligned as even the hardcore doubters and naysayers had to admit that telemedicine can, in many circumstances, serve as a viable, sage and reliable way of providing care – to just about everyone.
We also learned some very important lessons. There are circumstances where telemedicine doesn't quite fit the bill and in-person visits simply had to take place. Telephone calls have far more utility than thought and an awful lot can be accomplished with low tech, shoestring budgets and favorable rule waivers. Medical students and residents at many institutions rose to the occasion and started some amazing patient outreach programs when their ability to engage, interact and learn so dramatically changed. Providers of every ilk accepted the fact that it was telemedicine or nothing, took some training and started to develop their webside skills.
The challenge – and an exciting one if you're an eternal optimist like me – is to transition out of the rushed telemedicine implementations many organizations put in place and into the new hybrid practice of the future. Notice I did not say transition back to the old normal – we are never going back. Yes the waivers will sunset and some things are going to revert or maybe change, but a lot of the changes we saw that benefited telemedicine are going to stay in place.
Telemedicine of course is not the only challenge for 2021. Our country and indeed the world still have a long way ahead of us and we really don't know what the future will bring. We all have high hopes that the vaccines work, that enough people get them, that COVID does what evil viruses are supposed to do and die out, that racial and other disparities and injustices are addressed and solved, etc. etc. etc. What can we as individuals do? No matter what your challenges or your resolutions, we can all face the future with optimism, love and respect for each other. Identify or refine your personal purpose. Define your core values, principles and priorities. Figure out what your strengths are and face the areas that need development. Make a commitment to thrive rather than just survive. Don't go it alone – build a network of supporters, mentors and friends to help you accomplish not just your goals but anything you set your mind to. This is how telemedicine made it this far and starred in 2020 and how we will all star in 2021!