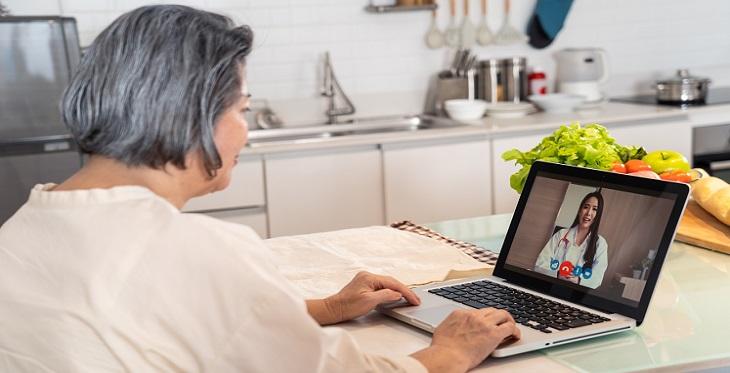 "Take care with telehealth" – it's an urging not a warning. Unless you have been a caregiver of a loved one, you may not appreciate the potential mental, physical, quality of life and financial impacts. My sister bore the burden of caring for our mother when Alzheimer dementia stole her sharp mind. On the rare occasions when my mother stayed with me for weeks at a time, I was overcome with anxiety, feeling like there were tight bands around my chest, and my normally low blood pressure shot up. This tracks with evidence that female caregivers experience more psychological distress than males (Families Caring for an Aging America. 2016).
We know that caregivers can have a 63% higher mortality risk than age-matched non-caregivers. While some of that increased risk is due to mental or emotional strain, we also know that caregivers skip or delay health care due to multiple factors, including difficulty arranging respite care to attend a visit or challenges with bringing their loved one to the visit due to mobility, behavioral and other issues. This is true for our senior populations but also affects parents and others that care for loved ones that require assistance.
Telehealth is a great solution – of course! But how do we make sure caregivers receive their care – both preventive and chronic care – by telehealth or other virtual ways that work for them?
Identity and document caregiving as a social determinant of health. Traditionally, in primary care and most other health care settings, we don't collect information on "caregiver status" (both providing and receiving), which means that this high-risk patient population is unseen and unknown. As we focus more and more on the impacts of social determinants of health (SDoH), caregiver status should be on the list of SDoH to facilitate connecting these individuals with the resources (like telehealth!) to optimize their health and well-being.
Address preventive and chronic health care gaps by telehealth. As we apply population health management principles to identify and address gaps in care, telehealth should be an essential tool in the toolbox for caregivers to receive health care services, when appropriate.
Make telehealth an easy option for acute issues too. There are so many actions to take to make telehealth easier for caregivers – from providing same-day telehealth visits to ensuring that caregivers have what's needed for telehealth visits (e.g., device with mic and camera and broadband connection).
Get the word out.
Activate the town crier – tongue-in-cheek, but… even if you are not in health care, PLEASE spread the word to family, friends and colleagues.




Caregiving is a significant SDoH, with women at higher risk than men.

Caregivers delay health care due to the challenges of providing care, with significant impacts on their health and well-being.

Telehealth is a great solution to those challenges.

Make a telehealth appointment today if you are a caregiver who has been delaying care.

Post the above on social media.

Post telehealth options on your website (if you are a health care organization).

Message telehealth when patients call to schedule appointments.

Partner with local (and other) organizations like hospitals, Area Agencies on Aging, adult/child day care, support groups, and more.

Create flyers targeted to caregivers to alert them to the consequences of delayed care and to a great solution – telehealth.
And finally – take care with telehealth!