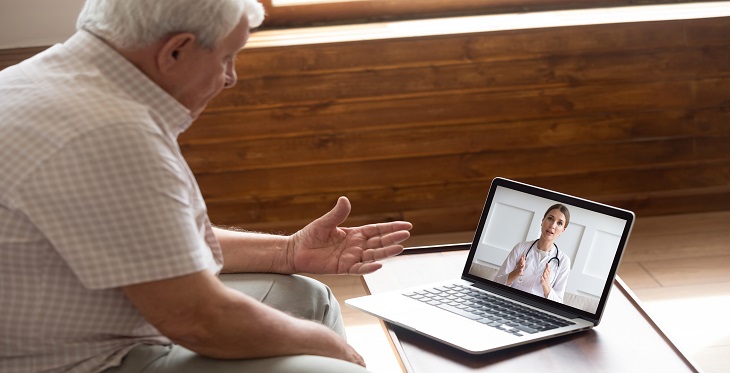 Last month, Psych Associates (Springfield, MO), where I practice, went to an "online office," which meant  every provider in our practice set up a virtual therapy room in their home. We're all trained up on Telehealth, so ready, here we go!
I'm a newbie to the world of virtual therapy so I really didn't know what to expect, but I'm  brave in my work, so I trusted that everything would work out fine.
The threat of coming in contact with the deadly coronavirus Covid-19 was real,  and of course we all wanted to stay well, and keep our clients well, so we acted quickly. Luckily, it was a smooth transition. 
I have to say, this experience has been more fun than I ever expected. It was interesting and insightful to see my clients in their environment, the place they call home.
I could tell that I was feeling more nervous for them to see me in mine. After all, we are taught to be what the client needs us to be and here they were seeing me in my casual clothes, natural face and hair, personal effects in the background, and so close to them they could see the details in my face. Nevertheless, I looked forward to seeing each and every one of them.
To my surprise, the usual self-consciousness felt in the therapy room didn't seem to be present, which resulted in a very "real" connection in the virtual world. It's possible the comfort accelerated because both patients and therapists were sharing how absurd everything seems these days due to the pandemic, allowing for a shared human experience.
There is something very liberating about being yourself, and still being the helper.
The notion that we are the backdrop in a session is becoming more outdated as we navigate inclusion and being welcome into a client's home-life. There is an ease about them as well; they are funnier, more animated, less tearful and they all smile more than I can remember. Why do they seem so different on their own couch versus the therapy room couch?
Now, I'm just simply fascinated with the differences. Prior to the pandemic, I had started looking deeply into the idea of the therapist as a fellow traveler with their client, even before we made the switch to working from home. That is to say, therapists are present, active, and participants in therapy sessions with clients who are also present and actively taking part. The underlying request of any client, who has started therapy, has been to ask us to meet them where they are.
Irvin Yalom, MD, describes this beautifully in an interview, "How Our Life Shapes Our Life's Work." https://www.youtube.com/watch?v=0L0vNOr2YKI 
This generation of therapy-seekers is looking for more from their therapists. More disclosure, more realism, and more of our back-story as it relates to theirs. Gone are the days of "uh humming" our way through their issues, calling it "empathy." Will doing regular Telehealth sessions have a lasting impact on how we approach therapy once we return to the office? Absolutely. We will have yet another layer, a fresh new perspective on how we do therapy that makes us better.
There has been no other time in the history of therapy in which we have a clear opportunity to not only meet them "where they are" but to also let go of our professionally defined notions about the therapist. How refreshing would it be for those seeking therapy to meet a fellow traveler like yourself who is also having a human experience and willing to be transparent.
*I am a licensed therapist, not a doctor. One of my clients years ago used to call us therapists "talking doctors" to make sense of the different providers she had.