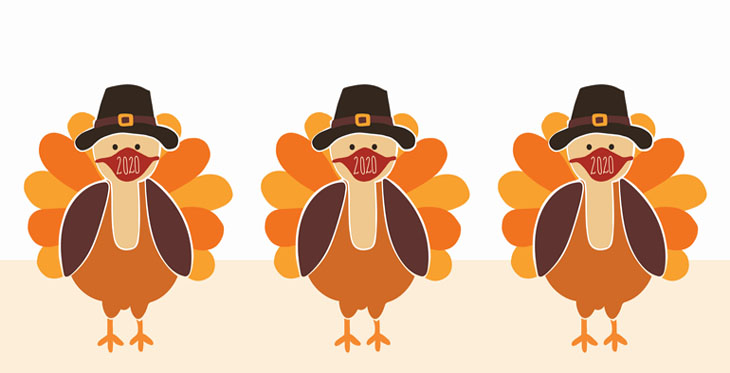 We pause each November to give thanks.  This year, more than ever, it is important to give thanks.   For many of us, we are thankful that everyone now knows what telemedicine is and are actively using it even though many of us have been supporting telemedicine and telehealth for well over 20 years.  We asked a few friends and colleagues in the Southwest region "What are you thankful for?" and below are their responses.  We hope that you too will be thankful. 
"I am extraordinarily thankful, now more than ever, for both my health and my financial stability.  I am also thankful that there has been a burning platform for, and therefore a tremendously increased use of telehealth processes, by both clinicians and consumers.  Finally, I am thankful to be able to significantly increase my contribution to the improvement of the US healthcare system as a result of the increased interest in telehealth processes."
Jan Ground
Jan Ground, LLC
 
"I am thankful for the opportunity to care for patients in a meaningful yet non-invasive manner amidst the current pandemic. Digital health allows us to maintain proper social distance while still delivering timely, quality care to our patients in need. I am particularly excited for the opportunity to reach underserved communities with the technology and am thankful for the various waivers and expansions that have been implemented to support the adoption of telehealth across the industry. It is very exciting to see how technology will augment medicine in the future and I am extremely grateful to be in a position to drive positive change!"  
Mitchell Fong 
Director of Telehealth, Renown 
 
"Though this is an incredibly challenging season, we still have so much to be grateful for. I am so very thankful for my incredible colleagues at the University of New Mexico Health System and for our leadership's support to move Telehealth services forward at a rapid pace in order to better serve patients throughout our state. I am so happy to know we have now put into place consistent Telemedicine processes and methods to keep our patients healthy and safe in their own communities, while leveraging the extraordinary services we offer at UNM. I look forward to where we will go next!  A huge THANK YOU to the many individuals involved in this (ad)venture."
Aimee Smidt, MD, FAAD, FAAP
Chair, Department of Dermatology
Associate Professor, Departments of Dermatology and Pediatrics
University of New Mexico School of Medicine
 
"While the COVID-19 pandemic has been devastating, I am grateful for the silver lining that has supercharged the adoption of telehealth and other remote health care service delivery to enhance access, keep people safe and ensure a revenue stream."
Trudy Bearden
Senior Consultant and Telehealth Lead
Comagine Health
 
"This quote by Gza says it all for me... 'Live a life full of humility, gratitude, intellectual curiosity, and never stop learning. ' NFARtec is grateful for all the behavioral health treatment providers who are willing to learn new skills in order to increase access to services for their patients. We are impressed with their commitment to remaining curious and to never stop learning."
Nancy Roget, MS
Executive Director
School of Community Health Sciences
University of Nevada, Reno
 
"Here in New Mexico, the NM Telehealth Alliance is grateful for our Governor, our Legislature, and our partners for collaboratively working to ensure and improve access to care during this public health emergency. Without so many people thoughtfully investing untold energy to identify and implement new solutions, health care would be severely compromised. The collective commitment to providing care by any means necessary reflects the resilience and integrity of New Mexicans."
Beth Landon
Board Chair
New Mexico Telehealth Alliance
 
"The National Frontier and Rural Telehealth Education Center (NFARtec) is thankful for having the ability to continue to offer quality training and technical assistance on the use of videoconferencing to the behavioral health workforce during a national public health emergency. Now, more than ever, providers, communities, and clients need our support." 
Terra Hamblin
Senior Project Manager
Center for the Application of Substance Abuse Technologies (CASAT)
NFARtec
 
 "During a time when people are scared in general, but in particular, scared to access healthcare services due to fear of COVID exposure…I am thankful to be able to offer a telehealth service that is both a source of reassurance to alleviate some of those fears, but also a source of trusted healthcare evaluation and treatment.  I am also thankful for all of the patients that have expressed their gratitude towards us in these trying times.  Much thanks for my family that has sacrificed in more than just financial ways, to allow me to build and grow an early-stage organization committed to the health and connected humanity of others. — Care On!"
Dr. Jonathon Savage, DO, FAAEM
Founder & CEO
Care on Location, PC |
"I am thankful for telehealth both professionally and personally. Professionally, I am thankful that telehealth programs are available for patients who otherwise might have gone without care. Personally, I am thankful for telehealth programs that allowed my Mother to get follow-up care after a battle with COVID-19. She was able to talk with her doctor, interact with a physical therapist and behavioral health professional from her home.  These telehealth programs allowed her to recover without having to make an arduous journey to multiple providers."
Gwen Cox, Daughter
Senior Improvement Advisor
Comagine Health
"I'm thankful for a successful response to COVID.  It would have been so difficult if the pivot to Telehealth failed or had major issues for our organization.  As difficult as it was with the long hours and stress, we accomplished so very much!"
Gerard Frunzi, MBA
Telehealth Services Manager
Children's Hospital Colorado
"I am grateful for a gritty, fun-loving team that came together to pull off remarkable feats to expand virtual health services across our ministry. Thanks to them, SCL Health providers are able to meet our patients where they are in these fear-ridden times."
Terri Casterton
Interim Vice President, Innovation and Virtual Health
SCL Health
"The Center for Telehealth at the University of New Mexico Health System is very thankful that we were able to help connect patients to care during COVID-19.  It was stressful but rewarding to know that we contributed during the pandemic and advanced virtual care overnight. We look forward to more growth and opportunities for telehealth." 
Stetson Berg, MHA
Interim Director
UNM Center for Telehealth
"One of our respiratory therapists told a beautiful story last week.  Along with her colleagues, she was in the thick of the most difficult care through the spring and early summer, and is overwhelmed by thinking about having to go through that again.  She was given a balloon ride recently and shared what it was like to look down over the craggy canyons of the Red Rocks.  While she was up there, she thought about all of the patients she has taken care of through the pandemic, including those we lost.  She gave thanks for them, and let them go.  And then she prayed for readiness and strength to take care of all of the people who will be in her care in the future.  I love her intentional practice of letting go of past sorrows in order to make room for what is to come." 
Hospital Chaplain
Gallup, NM
"Integrating telehealth or virtual visits in order for patients to interact with their current doctor may create a competitive advantage and a loyalty for providers that lasts far beyond the COVID-19 pandemic."
from the Vizient study, "Connecting with Patients During Covid-19," as quoted in the November 2020 Consumers Advancing Patient Safety Newsletter.
"It has been a wild and crazy year with so much happening in the world and especially in telemedicine. I am ever thankful for the Arizona Telemedicine Program, the SWTRC team and our colleagues, collaborators and supporters throughout the southwest. I am immensely proud of our dedicated efforts to help those who were literally forced to jump headfirst into telemedicine. I like to think that we ended up being a lifesaver, touchstone, and sanity check for so many organizations, providers and even patients."
Elizabeth Krupinski, PhD
Co-Director, Southwest Telehealth Resource Center
"This year has been an amazing, even historic year, for the telemedicine industry.  We finally shed many of the 'dead weight' barriers (negative policies, tedious legal processes, reimbursement resistance, etc.) that held back telemedicine expansion for decades.  Telemedicine FINALLY migrated from being a niche industry into the mainstream of healthcare delivery in the United States.  EVIDENCE?
'MAINSTREAM' in many industries is defined as a billion 'items' a year.
In 1996, when the Arizona Telemedicine Program was created by our Arizona State Legislature, there were 350,000 telemedicine cases in the entire United State, including hundreds in Arizona.  That number grew by about 25% per annum for the next quarter century.  Entering 2020, we projected 37 million telemedicine cases in the United States.  And then COVID-19 hit, potentially one of the greatest INNOVATION ACCELERATORS of all time.  BINGO! — Recent BC/BS claims data supports a 3000 % increase in number of telemedicine cases in 2020—hitting that magic number—1 billion telemedicine cases in the United States for the first time.
Obviously, we are all saddened that COVID-19 is having devastating effects here in the United States.  On the other hand, hats-off to the thousands of telemedicine pioneers who fought through dead-weight obstacles to telemedicine and telehealth achieving their full potential, literally for decades.  When the deadly pandemic struck, telemedicine spung into action and, arguably, saved the day for traditional medical practices.  As we say, 'A quarter century of progress in a month.'
For that we are thankful this year!"
Ronald S. Weinstein, MD, FCAP, FATA
Co-Director, Southwest Telehealth Resource Center
Founding Director, Arizona Telemedicine Program (1996)
President Emeritus, American Telemedicine Association.
Here at the Southwest Telehealth Resource Center we are thankful for your continued support, health and happiness!