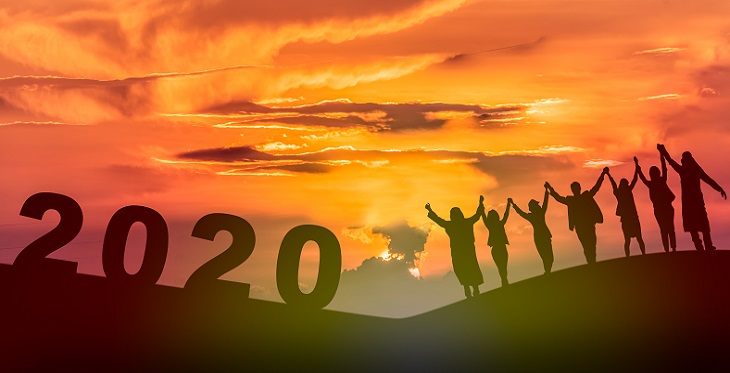 2020 – the first year of the 2020s decade - wow! It's got a lot going for it overall in terms of potential and good things to come – especially getting an extra day since MMXX is also a Leap Year. What does 2020 hold for telehealth? Hopefully lots of change (positive only) and progress for those already involved and those looking to get involved in this ever-evolving and growing platform for expanding and improving the delivery of healthcare services to everyone, everywhere, every time it's needed. The Southwest Telehealth Resource Center cherishes and is looking forward to continuing our many partnerships from the 2010s decade and aims to develop even more throughout the Southwest region through our training, technical assistance and outreach offerings. We've collected some additional thoughts from our partners about what 2020 will bring to their telehealth adventures and would like to share them here.
"In 2020, the University of New Mexico ACCESS Telemedicine program is looking forward to further development and implementation with CMS on the ACCESS Advanced Bundled Payment Model that covers Medicare patients who receive neurological emergent telemedicine consults at their rural hospitals. We received unanimous approval from the Physician Focused Technical Advisory Committee in Sept. 2019 to recommend moving the model into national implementation.  The model particularly focuses on providing specialty care in rural and underserved areas.  We also look forward to bringing additional emergent specialties onto the ACCESS platform with reimbursement, beginning with Cardiology and Behavioral Health."
Susy Salvo-Wendt
Program Manager
UNM ACCESS Telemedicine Program
"In 2020, I look forward to expanding the conversation around the US about the appropriate use of all care processes based on value.  How can we help people choose between self-care, chat, e-mail, telephone, video, remote monitoring, social networks, mobile apps to optimize health and significantly reduce the amount of money this country spends on healthcare?"
Jan Ground PT, MBA
Director, Virtual Care, retired
Kaiser Permanente, retired
"In 2020, I am looking forward to policy changes that will eliminate barriers to telemedicine adoption and promote reimbursement parity for expanded digital health services. One new initiative from CMMI I am extremely excited about is the Emergency Triage, Treat, and Transport (ET3) Model that will be available for application in 2020. We are already working with local partners to create the infrastructure to support this community treatment model to deliver cost effective, quality care."
Mitchell Fong, MPH, EMBA
Director of Telehealth
Renown Health
"In 2020, I look forward to increasing inpatient consultation and prevention of transfer."
Gerard Frunzi, MBA
Telehealth Services Manager
Children's Hospital Colorado
"In 2020 UTECH hopes to start on its journey to help our network members choose a Telehealth platform and help them implement it.  We are particularly focused on Telepsychiatry being that many of our member health centers serve a rural and often remote population. We are also hoping to learn more about how we can research and educate our network members about various Telehealth reimbursement sources to facilitate the platform's adoption and achieve the initial buy-in."
Ambrish Sharma
UTECH Manager
AUCH: Association for Utah Community Health
"Pecos Valley Pulmonology is the only specialty clinic for patients with lung diseases in Eddy County New Mexico. In 2020, we look forward to expanding our services in neighboring Lea County where we currently run a monthly specialty clinic. We are partnering with American Well to provide telepulmonology services to patients so they do not have to travel great distances to access care."    
Sunkaru Touray, MD, MSc
Pulmonary Critical Care Physician
Pecos Valley Pulmonology, Carlsbad, New Mexico
"In 2020, our team at the ECHO Institute in Albuquerque, New Mexico is looking forward to developing new modalities, tools, and resources to train and support partners who adopt the ECHO model for their telementoring needs.  For the past 16 years most of our work has focused on helping others to use ECHO to expand access to quality healthcare for the world's underserved populations; this year we expect to see a growing use of the ECHO model in the field of education, especially early childhood and k-12.  Our experience has been that rural school teachers and staff members are at least as isolated as rural healthcare professionals, and that telementoring programs for education can catalyze significant change in schools and school systems.  Overall we anticipate continued international growth and advances on the domestic policy front in the wake of the 2016 and 2019 US ECHO Acts, which enable the increased use of ECHO and other telementoring models across our health system for ongoing training and professional development.  Currently, we have more than 350 partners in 38 countries operating almost 800 telementoring programs.  Over the next year we expect these numbers to grow to at least 500 partners."
Elizabeth Clewett PhD MBA
Chief of Staff
ECHO Institute, University of New Mexico Health Sciences Center
"At 1-800 Contacts we are committed to making vision care simple and affordable. In 2016, we introduced our ExpressExam online vision exam service which enables a contact lens wearer to renew their contact lens prescription through a telehealth visit with a licensed eye doctor. More than 400,000 patients used this service to date and they have appreciated how it saves them time and money. In 2020, we are excited to continue growing ExpressExam and protecting consumers by preventing states from passing laws that limit access to this type of innovative technology."
Kellen Fowler
Vice President of Strategy and Business Development
1-800 Contacts

"In 2020, I look forward to expanding the roles of telemedicine, telehealth, and distance learning in addressing issues related to health literacy in the general population.  Currently, preventable physician errors are the third leading cause of adult deaths in the United States, just below heart disease and cancer.  Yes, that's over 250,000 unnecessary deaths each year, according to the US National Academy of Medicine (formerly known as the US Institute of Medicine).  Today, we expect patients to play an ever-increasing role in their own heath care, but we do little to provide the education of patients need to achieve that goal as a society.  The Arizona Telemedicine Program has explored the importing of medical science curriculum into K-12 schools with success and published papers on that topic.  We're eager to expand those health literacy programs and to provide future patients of all ages with the what they need to know to become an essential partner in their own healthcare team in the future."
Ronald S. Weinstein, MD, FCAP, FATA
Founding Director
Arizona Telemedicine Program

The Southwest Telehealth Resource Center, the Arizona Telemedicine Program and the National Consortium of Telehealth Resource Centers look forward to supporting for your telehealth initiatives this upcoming year! Happy New Year and best wishes for (tele)health and happiness throughout 2020!