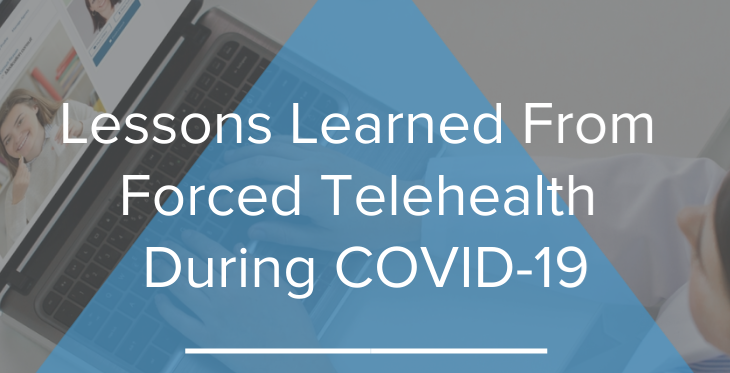 COVID-19 and stay at home orders forced many practices, hospitals, urgent care, and clinics to turn their operations upside down overnight. Patients were canceling appointments left and right due to "the fear of the waiting room". Many primary care providers were seeing upwards of 80% cancellations.
How Did Healthcare Organizations React?
Organizations were forced to make immediate tough decisions to just shut down, lay off staff, or try to keep a portion of patient appointments and migrate them to telehealth. Some smaller practice groups chose the "wait and see" path to see if state stay at home orders would be short term.
Larger practices, like FQHC's and hospitals, had to migrate to a hybrid model and put patient and clinician safety first, while still servicing patients and keeping some form of revenue coming in. The providers servicing the most vulnerable populations such as cancer, renal, and senior care shifted into quick action with telehealth.
This made administrators immediately scramble for telehealth platforms, rethink their workflows, and technology tools, all while reducing their staff. The waves and categories of healthcare organizations fell into the following buckets:
1. Innovative healthcare organizations: these forward-thinking organizations had a "true" virtual care telehealth platform in place pre-COVID. A virtual care telehealth platform is not tethered to a physical location, allows you to see a patient anywhere and everywhere, without hardware, installed software, or having the patients download third party mobile applications.
2. "Tethering" healthcare organizations: these organizations had it in their roadmaps and had already vetted potential HIPAA compliant telehealth platforms. However, they hadn't implemented pre-COVID. They sprung into quick action early March upon the announcement of "stay at home" orders and knew they needed to get something in place for a subsegment of their patient population.
What they hadn't figured out, is that they would see many cancellations and they would need to move a large percentage of their patient appointments to telehealth. This category started with a smaller number of licenses and aggressively started moving all providers to telehealth the second to third weeks in March.
3. "FREE or non-HIPAA" healthcare organizations: when the government waived the HIPAA guidelines, these organizations started using Facetime, Skype, video conferencing tools, and other low-cost short term solution platforms. This created significant operational and technical issues. From video and bandwidth quality issues to security issues on patient health information. While there was a lift on HIPAA compliance this didn't mean you didn't need to protect patient data.
Providers saw that this sometimes created widespread issues of patients joining their appointments early in an open video conference room only to join a conversation with their doctor and his/her previous patient. Providers were embarrassed and didn't understand technically how this was happening as they didn't select or vet these solutions.
Some of the cheaper telehealth solutions were allowing "sharing" of platforms and this created the "stealing of patients". This population from late March to early April started quickly migrating to paid scalable solutions that were no longer short-term fixes.
Five Lessons Learned From Forced Telehealth
What did we learn from the practices that did the "forced" overnight telehealth implementation nearly flawlessly (they had bumps and bruises along the way)?
1. You need someone leading the charge. Successful practices had an owner or project manager that was responsible for the technology, process, and training of both internal staff and patients.
2. They utilized their internal IT folks to quickly get trained and be the first line of defense to help nurses, doctors, and clinicians.
3. These practices trained patients on how to use the technology before their appointment. Moving patients to telehealth (especially seniors, who pre-COVID survey data showed they wanted telehealth) has its obstacles if you don't communicate to them how to do it right the first time. Utilizing front office staff to show patients the first time for 2-3 minutes will pay dividends in saving provider time and reducing user errors.
4. Healthcare organizations that use scheduling systems through their practice management, EHR, or a third-party scheduling platform, had to quickly change instructions and communications sent to patients. This patient communication and instructions is critical to success. Patients need to know what to expect from a telehealth appointment, how to connect, what are the best devices, browsers, etc.
5. During COVID, America has never experienced the type of bandwidth issues since AOL dial-up days. With both spouses working from home, multiple kids streaming video games, and attending school via video, home internet was crawling. The same is true even for mobile carrier towers overloaded with data streaming.
While this created issues on the patient side, the healthcare organizations had similar issues. Hospitals we're overwhelmed with internet issues, security video ports blocked, while smaller practices didn't have enough bandwidth for multiple doctors, EHR's and equipment to work at the same time. Proper planning, testing, and understanding of this can help healthcare organizations prevent dropped calls, bad video quality, or audio issues.
The New Hybrid Patient Care Model
Did the "forced" telehealth change healthcare forever in the future? Yes, providers and patients both experience the convenience and ease of use of virtual care. Even the providers that were "Nay-sayers" on telehealth not working without a physical exam, have come across the line on this.
The executives and administrators are now questioning, we were able to see X number of patients with Y number of reduced staff. Do we need to bring them all back or is there a new hybrid model?
We won't go back to 100% of patients who must come to a physical location and we won't stay 80%+ on telehealth. However, the new normal will be a hybrid model. As we focus on patient and provider experience, convenience, and proactive, instant care you cannot think strategically or innovative without telehealth being a critical role. Most importantly, you cannot get caught again without a telehealth platform in place should we have another pandemic arise.