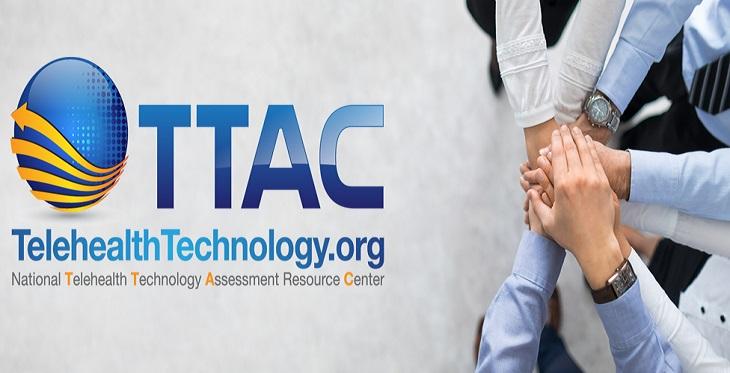 If I've said it once I've said it a million times – telehealth is not about the technology it's about the people. However – the technology is always there and sometimes it's worth taking a look at what people are using and what future technologies they might be interested in. Luckily the National Telehealth Technology Assessment Center (TTAC; http://www.telehealthtechnology.org/), a member of the National Consortium of Telehealth Resource Centers, does just that! They recently came out with their 2018 survey results and provided a comparison with 2014 survey results to assess trends and changes. The survey was sent to all 50 states and I don't want to brag but will anyway – Arizona had the most respondents and Colorado and New Mexico were also in the top 10!
The results were interesting and not all that surprising. So what's changing? One of the questions asked about which telehealth platforms programs are using. Not surprisingly, videoconferencing (VTC) is still the most widely used platform although down by about 2% compared to 2014. Store-and-forward (~4%) and home health (~3%) also have seen slight drops since 2014. I was not surprised by store-forward – reimbursement has improved but the door is still not wide open there so there are still challenges that would inhibit use. I was a bit surprised by home health dropping, although 2% could just be minor fluctuation. In all likelihood I would expect home health use to actually increase quite dramatically given the fact that in November 2018 CMS issued its final 2019 Physician Fee Schedule and Quality Payment Program that included reimbursement for connected care services to enable providers to manage and coordinate care at home. There are three new CPT codes that separate Remote Patient Monitoring (RPM) services from telehealth, reducing prior restrictions.
Paralleling the current use of VTC desktop apps, VTC was also the technology that respondents said they would most likely assess, research or acquire in the next 18 months, followed by mobile health apps, electronic stethoscopes, home health peripherals and mobile health video communications to round out the top 5. What was surprising here was that nearly every technology was reduced compared to 2014 with videoconferencing endpoints having the greatest drop at 17%. There's multitude of ways one could interpret these results. One is that many responders might already be doing telemedicine and thus have a good deal of infrastructure in place so are not considering any major changes in the near future. Another possibility is that the technologies and platforms have not only improved so much over recent years but have also converged so much that the similarities outweigh the differences. Cost rather technological features may be the deciding factor these days, so in-depth technology assessment may not play as great a role as it has in past years.
A non-tech question that was asked that had some interesting results was the one asking which clinical applications they support. The list was not surprising with the top 5 being psychiatry/behavioral health, pediatrics, patient education, primary care and diabetes care. It was interesting, however, that although there were minor changes compared to 2014, the majority were actually slight drops in applications supported. Again this is probably just statistical variation or more likely (as with all the questions and trends observed) it has to do with the fact that the amount of overlap in respondents between 2014 and 2018 might actually be rather low so direct comparisons might not mean very much.
Finally, there was a question on what social networks and online platforms are used. The top 5 here were Facebook, LinkedIn, Twitter, YouTube and Regional TRC (Telehealth Resource Centers) Forums/Websites with the greatest decreases for the American Telemedicine Association Hub and Google+. It was awesome to see the TRCs in the top 5! It really shows our growing presence as sources of experience and expertise for technical assistance, finding up-to-date information, and providing a variety of training and educational resources. Kudos to all the TRCs!
The results specifically for the Southwest did not differ all that much from the national level results (although infectious disease just barely beat out diabetes for a top 5 spot in applications). If you have technology questions, we encourage you to reach out to your regional TRC or to directly contact TTAC. Their goal is to create better-informed consumers of telehealth technology, by offering a variety of services in the area of technology assessment. They are located in Alaska – but if you don't have to visit them to get their help! Just go to their website or give them a call at 844-242-0075 and they would be glad to answer all of your technology related questions!