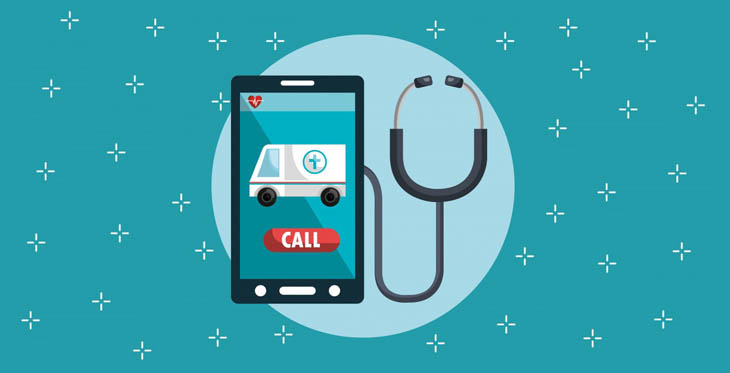 The healthcare industry seems to be booming by leaps and bounds – in good part due to Telemedicine app development. More and more organizations are seeking different ways, such as e-healthcare, to reduce costs and improve patient care. Being a subset of telehealth, telemedicine uses a broad range of modern technologies and specializes in providing medical services from a distance with the help of software and communication tools.
Why develop a telemedicine app?
Change is inevitable, and the healthcare industry is no exception. Today, around 42% of users prefer to make an appointment online, EHR systems take the place of paper records, and most office-based physicians already use EHRs to access patient data. So, rather simply put, there may be little point in spending time and money going to a brick and mortar healthcare facility. In fact, hospital visits are not always an available option. Many counties face a shortage of certain specialists or of healthcare facilities overall, hence the constant overload and long waits. Patients are often required to wait for their appointment for weeks and once there wait  long hours to see their providers.
Now let's see how investing in telemedicine apps can help. By using certain apps for certain situations, healthcare facilities might be able to opt into a hands-on alternative to hospital visits. Telehealth apps may be able to create better schedules for healthcare professionals, save time for 75% of patients who do not need a physical examination, and give better access to healthcare for the people who live in underserved rural areas.
Benefits include:
•    Real-time consultation - Many times, the patient may already have a good idea of the solution to their problem, as in those with chronic conditions. In this case what's required may be a simple professional confirmation. Sometimes when patients are unsure about their status, they get overly worried and may think they have some grave problem. During such situations, getting in touch with a healthcare professional via a telemedicine app may be even more effective than an in-person appointment if it could help clarify the situation and tell the patient whether they can deal with the problem on their, need to go to the hospital or even call 911. This type of scenario could reduce the number of days of waiting, traveling, and overthinking. Hearing a professional opinion via an app requires just a few minutes.
•    Photo-based consultation - Here, I would like to emphasize certain specialists, especially dermatologists who are often able to diagnose a patient within a span of seconds of visual contact. Skin problems, bruises, eye infections, and similar conditions with visible symptoms may not require an in-person evaluation; a consultation via a store-and-forward telehealth app may suffice. As soon as the patient fills out the typically required questionnaire, the app allows them to take a photo of the problematic spot and send it to a healthcare professional. After establishing a diagnosis, and doctors can message it to a patient along with a treatment plan.
•    Prescription renewal -  Patients often need prescriptions to be renewed, which can be a very frustrating task, especially if it requires travelling to see a provider then traveling to fill the prescription.  Telemedicine apps can assist by automatically renewing prescriptions. 
App Challenges:
•    UI/UX implementation - After going through these cases, I am sure you will see that there are lots of different types of apps. Some are  for patients, whereas other are for providers as they have different functionalities and require different user interfaces. Preserving style consistency and providing great user experience in both apps is critical and may require different GUIs.
•    Backend integration - For better communication, both types of apps require integration with a backend - a separately developed server that mediates data exchange between patients' and providers' apps. The most secure data exchange protocols must be used  to be fully HIPAA compliant and protect patients' sensitive data.
•    Reimbursement - To make this process easy for both parties, mobile apps should be able to offer patients secure credit card payment or a tool to bill to insurance as well as help providers with the CPT/HCPCS codes and 95/GT modifiers during billing.
Final Word
I hope this blog provides some help in overcoming obstacles on your journey while developing a telemedicine app. Implementing backend integration, great UI/UX design, and reimbursement mechanisms are the main difficulties you will encounter. Creating a telemedicine app can bring significant value to any medical institution and simplify the lives of patients and staff. Well designed features such as online and photo-based consultations, fast medical advice, and prescription renewals can transform random visitors into loyal customers.