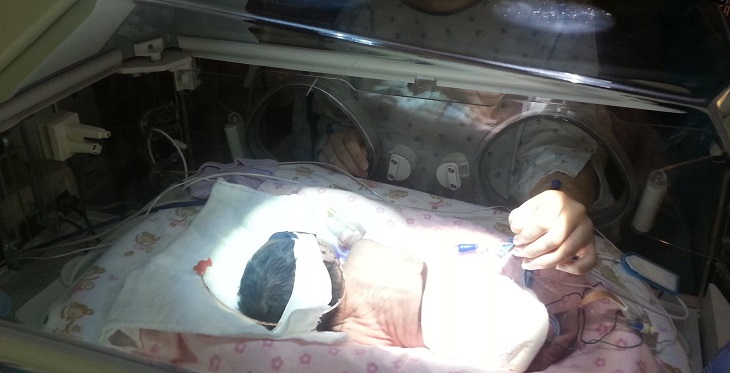 Imagine that you just delivered a baby three months early and are sitting in the neonatal intensive care unit (NICU) next to an plastic box (i.e. an incubator) supporting the child who was nestled safely within the womb just 12 hours ago. Tiny and translucent, your new hero is fighting for life with all 1 pound 4 ounces of his being. Though connected to machines to help him breathe, stay warm, and nourished, the alarms and noise of the monitors make you wonder what is going wrong.  Work that your body was doing 12 hours ago has now been completely handed off to a team of strangers, medical professionals that are kind and highly skilled, but are completely new to you.
You heard the neonatologist tell you about all they are doing to keep your baby safe, warm and alive. Perhaps she also told you how your baby has a good chance of surviving but complications of the lungs, eyes, and brain are likely. All of the words sound like a foreign language and in your post-delivery and "analgesic on board" fog, you feel out of control and scared. What do you do next? Is there anything you can do to help protect your baby? You don't even know the questions to ask, only that this tiny person has become your reason to live and to fight.
This is a common scenario in NICUs, but one essential complication your baby is at risk for -- a disease that impacts the gastrointestinal system and is the second leading cause of neonatal death -- necrotizing enterocolitis -- is rarely  mentioned until clinical signs develop. It may also not be clear to you that there is one essential immune-boosting medicine that none of the healthcare team is able to provide your baby:your own breast milk. Yet, at 12 hours of age -- you -- as that one source of maternal breast milk - needs to know that mother's milk is a lifesaving intervention and they can't protect your baby from complications without your help.
To support clinicians to communicate with parents and to engage parents as partners in caring for their infant, my team developed an intervention and toolkit of resources to prevent necrotizing enterocolitis called "NEC-Zero." This intervention is based in research and developed with researchers, parents of infants who had the disease, and clinicians. It prioritizes maternal breast milk, including the need to start breast pumping by six hours post-delivery; use of standardized approaches to feeding the fragile infant;  limiting antacids and unnecessary antibiotics; and using a tool to help clinicians watch out for NEC risk and communicate early warning signs in a structured way.
Although NEC-Zero is simple and evidence-based, its use in practice is dependent on clinicians who find them useful enough to integrate them in their daily practice. To map out the steps of NEC-Zero, our checklist can be adapted to fit an individual NICU's needs. Funded by the Pacific Southwest Region of the National Network of Libraries of Medicine, we held a webinar on March 29 to share the parent resources with librarians, public health professionals and parent advocacy groups like the Preemie Parent Alliance, the NEC Society, and the Peekaboo ICU community. A recording of the webinar is available on the NEC-Zero website.
On April 23, 2018 we will host our second webinar to share the toolkit with clinicians. We are looking for NICUs to "try out" the toolkit and to partner with us in a short quality improvement project as part of a neonatal community of practice in the Southwest.
Future projects will use an "All Teach, All Learn" approach in partnership with the Arizona Telemedicine Program & the Southwest Telehealth Resource Center; nurse scientist and telehealth expert Dr. Kimberly Shea; and Dr. Katherine Newnam; an expert neonatal nurse practitioner from the University of Tennessee at Knoxville. We hope you will work with us to prevent neonatal complications like necrotizing enterocolitis using best practices and engaging parents in the process.
Dr.Gephart has received funding for NEC-Zero from the Robert Wood Johnson Foundation Nurse Faculty Scholars Program (72114), the Agency for Healthcare Research and Quality (K08HS022908), and the National Library of Medicine, National Institutes of Health, under Cooperative Agreement number UG4LM012341. The content is solely the responsibility of the authors and does not necessarily represent the official views of any of these funders. Contact Dr. Gephart at gepharts@email.arizona.edu or at 520-626-5284.