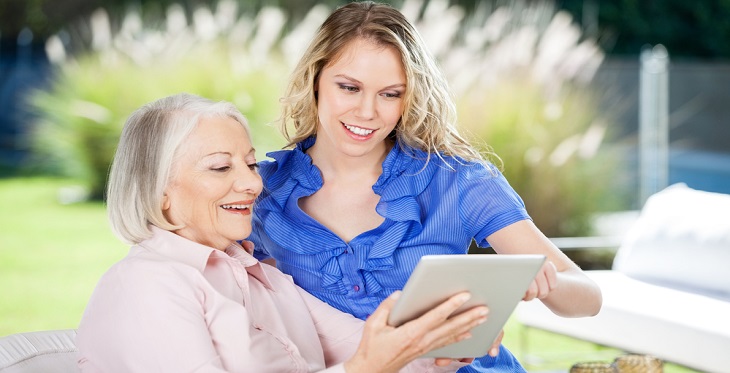 With a large generation entering retirement and quickly approaching their senior years, a growing segment of the population is seeking ways to stay in touch with, and care for, their loved ones. The good news is that today's smart home technology makes it simple to care for aging parents, whether they live with you or are hundreds of miles away. Here are a few key functions and products to consider that can provide peace of mind.
Improving Everyday Comfort 
The first priority for many caregivers is to look for little ways to make every day easier. Even the simplest tasks can become a stumbling block for many seniors, especially those with limited mobility and other age-related impairments. With that in mind, some of the best upgrades to look for are the tools that can restore self-sufficiency and improve daily life in novel ways.
A great place to start is with a smart thermostat. These foundational smart home tools can intelligently schedule the temperature of a home or apartment. They're effortlessly controlled via an app on a tablet or smartphone, so that users can manage their comfort settings from anywhere in or outside the home. Not only do these thermostats require fewer inconvenient trips to adjust the dial, but they can be set-up to automatically adjust to your parents' temperature preference and can even save them significant money over time.
Adding smart lighting to the home is another way to automate settings for safety and comfort. Available as hardwired light switches or even stand-alone smart bulbs, these products combine powerful smarts with energy-efficient LED lights to give users full control over the lighting in every room. You can change dimness and color temperature settings (something that aging eyes are sure to appreciate), and they can be easily programmed or turned on and off remotely from a companion app or a remote control. It's a simple upgrade and one that will have a tangible impact on making your parents' living space that much easier to manage.
Keep in mind that it's a good idea to  look for products that include great new features, while still functioning like the traditional products they're replacing. Using an app to control smart home features is wonderful, but it can be equally frustrating to try to turn on a light or listen to music if there aren't traditional switches and controls to revert to.
Using Their Voice
Something that both the young and the old have in common is that they typically don't want to add a bunch of clutter and noise to their daily routines. Smart technology and new gadgets can be great, but if these tools are more difficult to use than their "dumb" counterparts, your parents probably won't find much use for them.
Voice-activated assistants like smart speakers, or even a television remote, can be a huge help in this arena. Voice operated devices can bridge the gap between advanced smart home technology and a simple user interface. Whereas your parents may never open an app to play an album or dim the reading lights, a simple verbal command is the ideal interface for many elderly homeowners, giving them all the control they could need without any of the complexity.
Improving Safety in Emergencies
Nothing can help you sleep better than knowing that your loved ones are safe, and new gadgets like wireless smart cameras and smart sensors provide a security net. Wi-Fi smart cameras, available from many stores or your local internet service provider, are simple, but effective, security devices. They can give your parents the ability to look out for visitors or intruders from anywhere inside – or outside – their  home, and cameras allow caregivers a way to visually check-in if circumstances require it. Best of all, they're inexpensive, and many don't require any of the complex wiring like the video cameras from the past.
For advanced protection, consider smart sensors that can be placed on doors, windows, or in common household throughways. Integrate these with a mobile app, and you and your parents can receive instant alerts when motion, unusual air quality, or even water from leaky pipes is detected. They're fantastic tools for detecting emergencies and keeping your family safe – especially if you don't live nearby.
It's best to set up an integrated smart home hub to manage cameras, sensors and even thermostats and lighting with one easy-to-use mobile app. Your parents' local cable company may be able to help you get started.