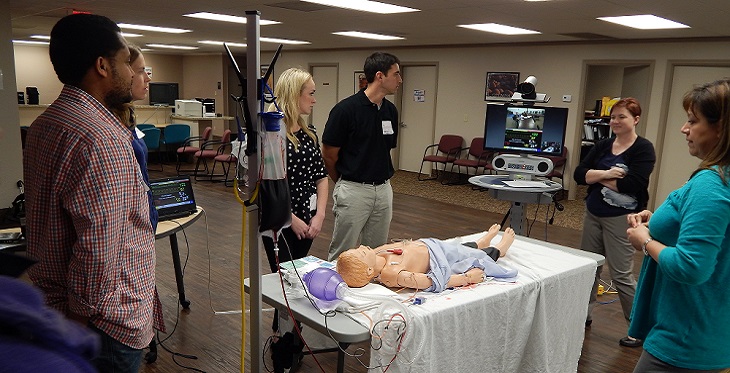 When middle-school students seem unsure of their ability to pursue a career in health care, Allan Hamilton, MD, professor of surgery and director of the Arizona Simulation Technology and Education Center (ASTEC), has a quick response.
"Do you know how to play video games," he asks. "Well, yeah, of course," the student will say. "Well, that's who we're looking for now," Hamilton replies. "People who are tech savvy, know how to be good members of a team, and are compassionate. If you meet those qualifications, you're a candidate for a career in healthcare."
The way young folks adapt to the virtual world of games like "Minecraft" and "Heroes of the Storm" seems to transfer well to practicing laparoscopy and other simulated procedures in the ASTEC lab.
Based at the University of Arizona College of Medicine in Tucson, the Arizona Telemedicine Program and the Arizona Simulation Technology and Education Center are paving new pathways for learning.
How often do middle-schoolers practice their skills in the ASTEC lab? More often than you might think. Since 2005, ASTEC has hosted about 150 middle-school students each year.
The Arizona Telemedicine Program (ATP) has for years advanced the concept that learning about medicine and health care should start long before medical school.
Ronald S. Weinstein, MD, co-founder and director of ATP and the Southwest Telehealth Resource Center, has written several articles and lectured on the fact that while medicine and technology have advanced rapidly over the past decades, the approach to medical education has remained largely unchanged for more than 100 years.
ATP and ASTEC in Rural Arizona
ATP's presence in rural Arizona extends to 160 sites, from the state's border with Mexico to the bottom of the Grand Canyon. Now ATP is working with ASTEC to extend telesimulation sessions to rural communities. In March 2015, ASTEC traveled to the Greater Valley Area Health Education Center in Apache Junction, east of Phoenix – one of five  Area Health Education Centers in Arizona, whose mission is to address Arizona's severe shortage of health-care professionals.
The training topic was labor and delivery, using a low-fidelity "MamaNatalie" birthing mannequin and SimJunior, a wireless pediatric mannequin, to conduct a labor and deliver scenario involving a pediatric cardiac arrest. The trainees were University of Arizona
College of Nursing students working toward Doctor of Nursing Practice degrees.
To demonstrate the potential of telemedicine in connecting rural sites with larger training centers, the training was streamed live to the state's Northern and Western Arizona Area Health Education Centers. Remote learners said they gained valuable lessons from the activity. 
"We think you can guide people just as easily from a distance as you can from the bedside," Dr. Hamilton said. "We have shown that laparoscopic training is at least as effective from a distance as having the instructor there in person."  
A Proof of Concept Drill
In December 2010, ASTEC and ATP teamed with Tucson metro area's Northwest Fire District, to test the theory that both ATP and ASTEC could enhance teamwork and efficiency in the event of a large-scale life-threatening event. A multiple-car collision was staged adjacent to the interstate highway north of Tucson. ASTEC brought along seven computerized mannequins, one of which simulated a woman with critical injuries going into labor. ATP and the University of Arizona Health Sciences Biocommunications office provided three photographers who videotaped the whole event, while ATP broadcast the scene to Northwest Fire and other first responders, and to ATP headquarters.
The exercise – which took five and a half hours from set up through post-exercise review – proved that in a disaster, the ATP-ASTEC collaboration could benefit both victims and responders. And it showed medical students what can be done – and how important teamwork is – when attempting to save lives during the "golden hour."
Dr. Hamilton noted that the field test took place less than a month before the January 8, 2011, Tucson mass shootings in which six people were killed, and 13 others, including then Congresswoman Gabrielle Giffords, were critically wounded during a morning "Congress on Your Corner" gathering in front of a north Tucson supermarket.  
Dr. Hamilton added that the proximity of the two events – the drill in December and the shootings in early January - offered "a grim reminder that we have to study how to respond to the unthinkable. It was no different when we had to undertake hospital-wide training for an Ebola outbreak in the United States. One of simulation's missions is to imagine even those things we hope we never have to witness."