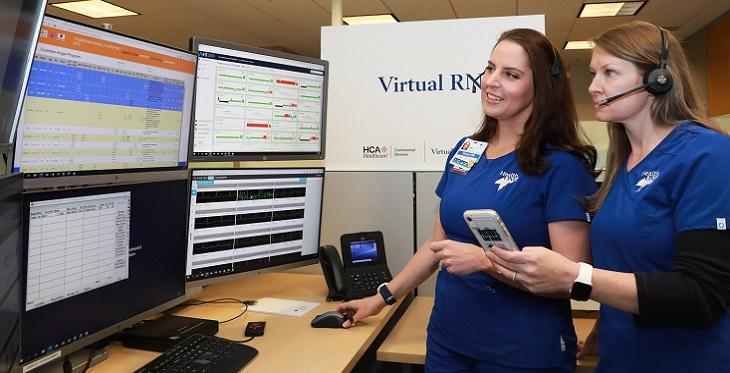 COVID-19 is frequently attributed with introducing healthcare providers to the world of telehealth, but for a hospital system serving patients in Colorado and Kansas, the expansion of telehealth has been the norm for almost a decade.
With growth comes a need to negotiate space in tight hospital settings. HealthONE's remedy was to bring all telehealth under one roof at their Denver headquarters by creating the Virtual Care Center.
Melissa Skinner, HealthONE's director of clinical resources, said many telehealth programs start small in one hospital before branching out to each of the nine facilities.
"Centralizing it now puts all the resources in one place," Skinner said.
"This allows our hospitals to capitalize on the additional space, and not have the burden of managing those telehealth resources and programs in their hospitals."
Virtual Sitter was HealthONE's first telehealth program, connecting technicians to patient rooms via a camera or telecart, allowing them to talk directly to the patient or alerting floor nurses or other staff if patients are trying to get out of bed or more. Techs at their stations can do a one-touch click on their computer to talk directly to the patient and/or the patient's family to redirect the patient or ask if they need help. Additionally, they have the option to promptly communicate with the clinical team about the patient's needs through an overhead page to the respective unit.
HealthONE's upcoming telehealth initiative introduces the "Guardian Angel Report," a virtual nurse project devised by a collaboration of nurses and physicians. This innovative computer program operates as a high acuity predictive tool, leveraging a background algorithm to enhance patient care.
"It looks at all our patients who are adults outside of our ICU and it looks for a set of vital signs and lab values, and if they become abnormal, it triggers the nurse to focus on that patient," Skinner explained.
Subsequently, the nurse can assess the patient's needs, which may involve adjustments to medication dosages, treatment modifications, and other necessary interventions.
"The goal is to intervene faster so that the patient doesn't have an unplanned transfer to the ICU," she said.
The Virtual RN program took a decade to develop, and started in one hospital to allow HealthONE to collect data to ensure the algorithm was sound. With proof of concept, HealthONE expanded the program to all its hospitals. The program employs nurses with specialized training in ICU and ER settings, stationed at the Virtual Care Center around the clock. Their role involves continuous monitoring and direct communication with primary caregivers.
In the end, their findings indicate significant value in the Virtual RN program, leading to improved patient outcomes. This includes the potential for shorter patient stays or transfers to a higher level of care when necessary.
What's next?
Skinner said HealthONE recently launched a centralized telemetry program, so every patient on a cardiac monitor who is not in the ICU can be monitored from the Virtual Care Center.
"Again, this reduces the burden on our hospitals having to manage all those technology pieces, staffing, and ongoing operations. We're about to bring over our last hospital in Denver, so we'll have six facilities here, and then we will look at how we will bring over the remaining three," Skinner explained.
At the beginning of the year, HealthONE also launched a virtual admin discharge nurse program. Experienced nurses interact with a patient on their website, through a phone call or by two-way audio with a camera to complete the admission history and/or discharge process.
"They take the burden of the documentation from that primary nurse. Our nurse is able to go through their admission history, get a full list of their medications that they're taking at home. Some of it could take 30 to 45 minutes of documentation work off the nurses at the bedside. We can also do some discharge education with those patients before they go home," Skinner said.
Another area of telehealth expansion in the future is working with existing rural partners that aren't currently part of HealthONE's system but demonstrate a clear need for such services.
"We already have the infrastructure in place. We have the potential to offer virtual care resources to small rural hospitals that are struggling with a nursing shortage," Skinner said.
"Our journey has created a system that serves as a great example for our partners or future virtual care centers. To me it means that we can have better quality and safety across the country for patients like those in our hospitals."