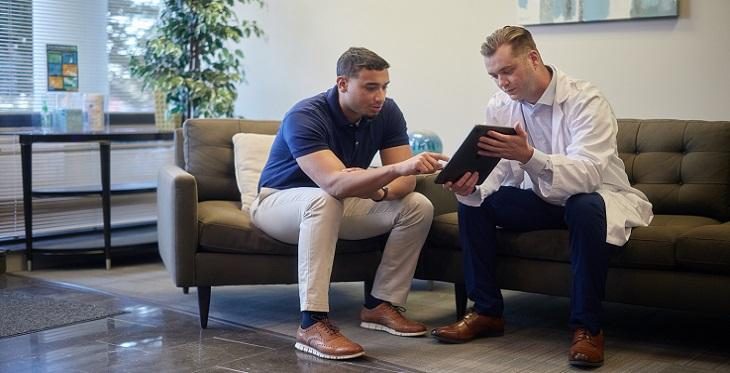 Have you ever had patients say that virtual visits and technology are difficult? Have your patients avoided virtual visits due to their lack of comfort with virtual care? Have your patients ever asked for a resource center or for someone to practice virtual sessions with to overcome any challenges? The Veterans Health Administration has numerous approaches to help veterans with virtual care and technology adoption.
Virtual Health Resource Centers is one of the solutions for veterans and staff across the nation. The centers offer one-on-one support to veterans, their family members and caregivers, and VA staff looking to utilize virtual care options to improve care. Each center has health technology experts located at its associated VA medical center or clinic. They provide guidance, hands-on support, training, help troubleshooting, opportunities to do test calls and practice sessions, and other information regarding virtual care tools.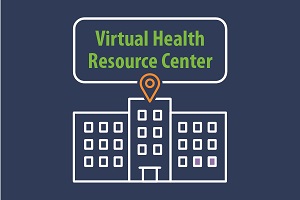 If a patient has broad questions about what technology is available within the VA and wants to do a general overview of what the VA has to offer, the centers can help. If a family member feels uncomfortable about an upcoming virtual visit and wants to test their device or does not know if they have enough bandwidth on their home internet for a successful virtual visit, the centers can set up personal or VA-loaned devices and practice with them to ensure the upcoming virtual visit is successful. If veterans would like to discover what health apps are available for their current health needs, the centers can help.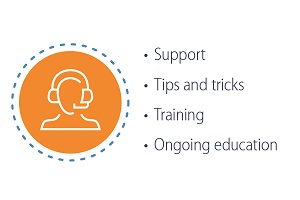 The centers not only support veterans, their families, and caregivers, but also VA staff members. A VA employee, no matter what title or role and no matter what service line or type of setting they work in, can turn to the centers for support with incorporating virtual care tools into their daily workflow or clinical practice. Experts hold regular training courses for staff to stay up to date on virtual care tools and technologies. Clinicians and VA staff are busy, and they assist as they can; but having these centers serve as a resource that VA staff can refer veterans to when they have questions or need technical support beyond the VA staff member's expertise is a welcomed service.
The centers are open for phone, video, and in-person consultations with their health technology experts. They track response time satisfaction, service satisfaction, and material training satisfaction levels with regards to services that have been received by veterans, families and caregivers, and VA staff and the results are "Very Satisfied," on all three of these categories from all existing centers.
For VA sites that currently do not have a Virtual Health Resource Center but want to set one up at their site, there is a Virtual Health Resource Center Implementation Consult Service to help. The Virtual Health Resource Center Implementation Consult Service works alongside VA facilities across the nation by providing:
•    Expert consultation for up to six months during the implementation of a center.
•    Evidenced-based strategies to ensure the successful implementation of a center.
•    Continued support to ensure the sustained success of the facility's center.
Video for more information:
https://youtu.be/aJDb9bgqD-k