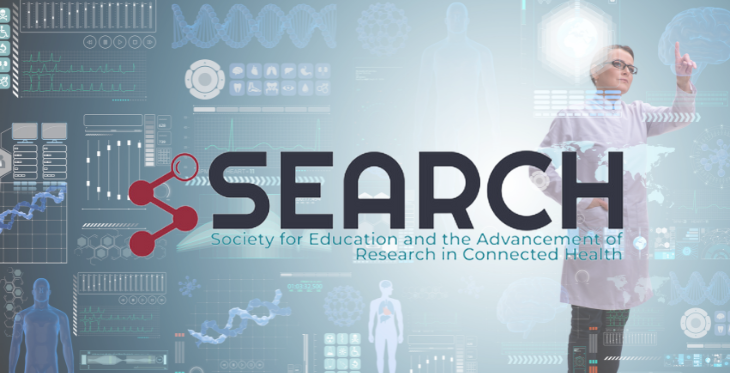 SEARCH 2023 – The National Telehealth Research Symposium connects health researchers, academics and visionaries in telehealth and telemedicine to share findings and foster research partnerships. The annual conference, hosted by the Society for Education and Advancement in Research in Connected Health, focuses on research of telemedicine, telehealth, eHealth, and other healthcare technologies. This year's conference on November 7-9 in Philadelphia, Pennsylvania will feature research presentations on AI, behavioral health, and more.
This conference is unique from prior years in that it is partnering with the American Heart Association Center for Telehealth and the American Heart Association Annual Scientific Sessions meeting. The collaboration grew out of mutual interests in telehealth and the American Heart Association's acquisition of the American Board of Telehealth. The board was established in 2019 through funding from the Leona M. and Harry B. Helmsley Charitable Trust to develop a first-of-its-kind national telehealth certificate program. In 2021, the American Board of Telehealth management transitioned to the American Heart Association, a leading provider of healthcare professional education and training. Other conference partners include the Medical University of South Carolina, University of Arkansas Medical School's Institute for Digital Health & Innovation and its Translational Research Institute, University of Mississippi Medical Center, the National Consortium of Telehealth Resource Centers, and SPROUT (Supporting Pediatric Research on Outcomes & Utilization of Telehealth).
Dr. Elizabeth Krupinski, director of the Southwest Telehealth Resource Center who currently serves as president of SEARCH, helped with the conference organization and program development, and abstract review. She will open the program and serve as moderator for several sessions. A professor of radiology and imaging sciences and biomedical informatics at Emory University, Krupinski said she hopes this year's symposium "will reach a broader audience through the collaboration with the American Heart Association and attract a new audience to explore current research in telehealth. SEARCH received a record number of abstracts, and as a result, expanded the meeting from two-and-half to three days. A reception co-sponsored by SEARCH and the American Heart Association will be a great way for conference attendees to mix and learn from each other in a casual setting."
We interviewed Krupinski about the event, her involvement in SEARCH, and why other telehealth researchers and providers should join this unique conference.
How long have you been involved with SEARCH and what drew you to the organization?
I have been involved with SEARCH since its inception in 2016, attending the first meeting before it was even called SEARCH. SEARCH was formed as a venue for researchers to present their findings in a non-commercial setting with no vendor involvement or support. Other telemedicine meetings were gradually having more and more vendor presentations and less research focus so a small group of us decided to form a new society. SEARCH was the result. We have held an annual meeting ever since with steadily increasing participation. A society of connected health researchers—free from commercial bias—to prove (or disprove) the benefits of telemedicine was the key attraction for me for being part of SEARCH.
 
What excites you about this year's symposium?
The collaboration with the American Heart Association and their co-sponsorship and support of the conference is the most exciting aspect. We really hope to get attendees at the two separate meetings to take some time to visit both and attend at least a few sessions to see what each group is doing and what the research highlights are.
Although the abstract submission deadline has closed, what can you tell me about the research submitted this year and previous years? Is this what sets apart the SEARCH symposium from other telehealth conferences?
The abstract submissions are extremely varied and cover everything from cost benefit analyses of telehealth programs to the use of artificial intelligence and virtual reality to enhance provider and patient experiences and outcomes. We have some special keynote speakers and panel sessions lined up that will highlight state-of-the-art programs and new directions for telehealth. There are some interesting talks on education in telehealth planned as well, plus our education bursts–short but information-packed blasts on research methods–and poster flashes in which poster authors get 90 seconds to pitch their poster and attract attendees to visit them during the poster sessions.
It's not too late to register. Why should other academics, researchers and providers make it a priority to attend?
SEARCH has become THE meeting to attend to find out about all the great research going on in telehealth straight from those doing the research. It will be three days jam-packed with cutting-edge research and outcomes that are critical to patient care being delivered in innovative and exciting ways. The focus on having plenty of time for questions in each session and lots of time to interact with each other during session breaks without the distraction of commercial vendors provides attendees an amazing opportunity not only to learn from each other, but also to establish new research collaborations and take the field to an even higher level of excellence and creativity.