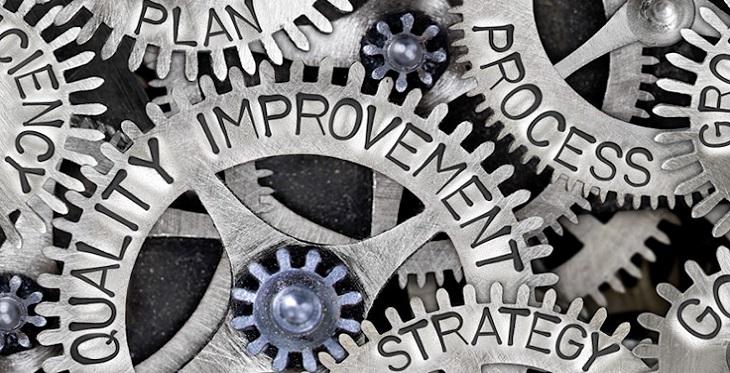 Introducing the Telehealth QI and QA Miniseries: Part I
How much do you love improvement science? I have been an improvement science evangelist and guru since 2007. That was the year I completed advanced training in health care improvement with Dr. Brent James at Intermountain Healthcare in Utah.
I was a practicing clinician, clinical manager, quality coordinator, practice transformation lead, IT support (and more) at a family medicine residency that was participating in the Safety Net Medical Home Initiative. Learning the power of data and the science of improvement was one of the biggest light bulb moments of my life. I often liken it to when Johnny 5 – the robot in "Short Circuit" – throws open the barn doors, seeing the outside for the first time and remarks, "Ahh – input!". Suddenly I could ask and answer questions, using data and measurement.
Over the past 15 or so years, as we've edged closer and closer to true value-based reimbursement, I no longer need to make the case to health care organizations that they need an organized and functioning quality improvement strategy. And yet… I see opportunities for telehealth to be embedded in our QI strategies to better understand our opportunities to improve and to identify the impacts – both negative and positive – that telehealth has on quality, safety, efficiency, cost, and peoples' health care experience.
In hopes of sparking renewed commitment to applying improvement science to telehealth, we offer this Telehealth QI and QA Miniseries. Today we begin with the first in the series – see below.
The Model for Telehealth Improvement – a high level reminder of improvement basics.
The Heart of Telehealth Performance Improvement – The PDSA – demystifying the PDSA to test changes and drive improvement.
Data – Your Performance Enhancer – doubling down on the essential use of data for improvement.
Telehealth QA – Is it all it's QAcked up to be? – committing to telehealth excellence for everyone.
Telehealth Improvement Tales from the Front Lines – collecting and reflecting telehealth improvement experiences and lessons learned from the front lines of health care service delivery.
The Model for Telehealth Improvement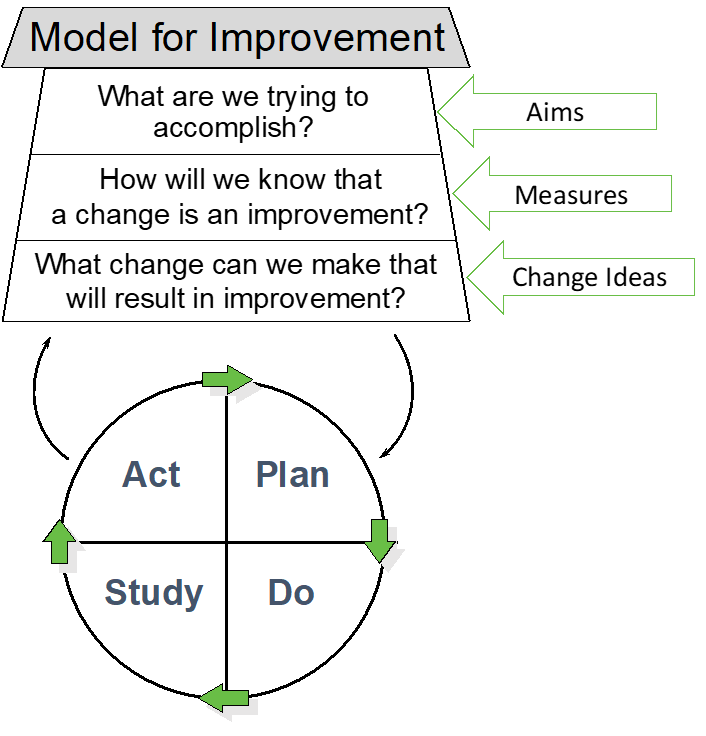 For anyone in the know, this title is a nod to the widely used Model for Improvement often attributed to the Institute for Healthcare Improvement (IHI) but first described in the book "The Improvement Guide". Regardless of the quality improvement (QI) approach used at your organization every QI strategy includes four essentials. 
Setting specific, measurable, actionable, realistic, and time-bound (SMART) aims
Knowing whether a change results in improvement (or otherwise impacts the process or system)
Identifying potential changes that might lead to improvement
Testing changes, usually on a small scale, to learn which changes should be adopted, adapted, or abandoned
Commit this quintessential QI principle to memory!
"Every system is perfectly designed to achieve exactly the results it gets." ~ Arthur Jones Attribution is disputed. Like Magic? ("Every system is perfectly designed…"). IHI. 2015.
Clarify who the team is/individuals are responsible for and will track telehealth improvement efforts. Will it be your existing QI team? The quality coordinator? The telehealth coordinator? Someone else?
Develop your set of meaningful telehealth measures. For further guidance, we direct you to our succinct two-pager Telehealth Measures Starter Set.
Collect baseline telehealth data for your set of telehealth measures. This is also the time to be clear on how you will know that a change is an improvement. Which data/measures can you track over time to know whether a change is an improvement and whether that change is due to a specific cause (preferably the change you implemented!) or due to random variation?
Draft SMART aim statements. As described above.
Cast a wide net to solicit and brainstorm possible changes that may improve of telehealth service delivery. It is these changes that you will test using PDSAs. Stay tuned for "The Heart of Telehealth Performance Improvement – The PDSA"
Resource: Continuous Quality Improvement Worksheet
Use the SWTRC Contact Us form to send your telehealth measures and/or experiences with telehealth quality improvement.