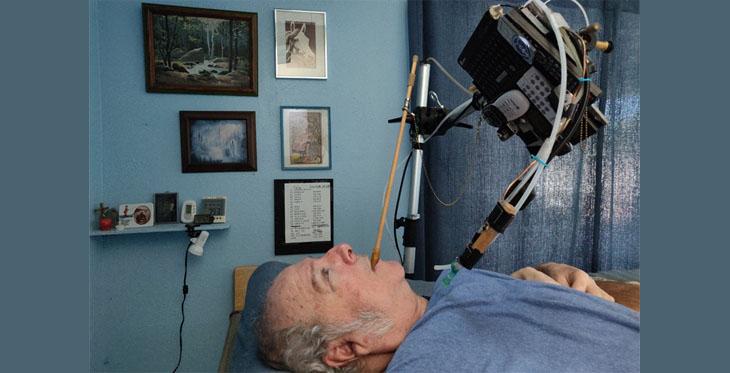 I don't use a smartphone to access Telehealth. Being a "tetraplegic" I have no use of my hands, so I invented a unique way to operate different electronic devices.
I created two styles of mouth sticks.
This one I use while in bed. It's made from a quarter inch wooden dowel with both ends covered with surgical tubing. If you notice, one end is covered two and a half inches and the other a half inch. The longer end is for biting on and the other is to cushion the tip.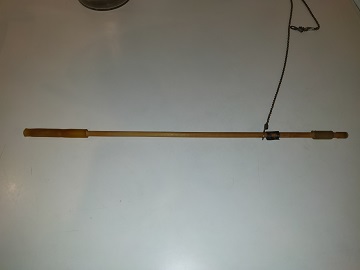 The second mouth stick I use while sitting up in my wheelchair. I can drive up to the desk I designed and park myself in front of my keyboard and computer. The mouth sticks I use while in my chair has a lucite bite impression the dentists made for me. I don't use this type of mouth stick while laying down in bed because I can't easily swivel the stick from side to side.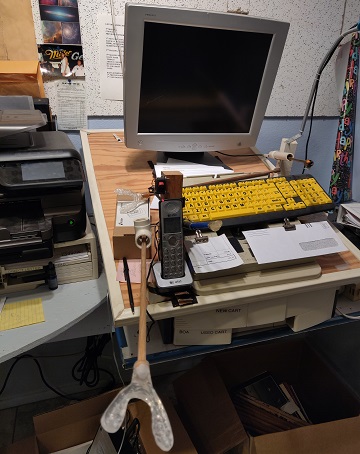 In this photo you can also see a cordless phone. I strategically place the phone so I can access it while sitting at the keyboard
LIFE IN BED
Presently, I'm spending most of my day lying in bed due to a sharp decline in my health. Prior to this, my life was quite active and I was involved in volunteering and giving motivational talks. This is where Telehealth entered my life. No longer being able to make my various medical appointments, I was enrolled in the Casa De La Luz Palliative Care program where a medical team was assigned to me. When the Corona Virus started, they stopped all home visits. This opened up the door to Telehealth.
HOW DO I USE TELEHEALTH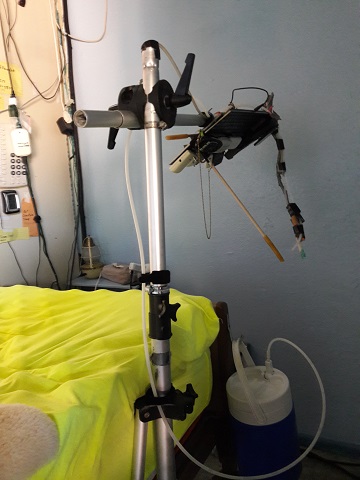 I modified a video lighting tripod and mounted it to the side of my electric bed. This tripod has two major ways of adjusting. I found a thin strong piece of wood and cut it to size. I designed a way to secure this board to the end of the boom of the tripod. Secured to this board are tv remote, cell phone, HDMI remote and keyboard. I secured a camera to a tv/monitor and mounted it above my head.  Using the mouth stick I can operate these devices to communicate with my health team remotely.
Summary
A person with limited mobility can greatly benefit by utilizing "Telehealth".
Often these individuals don't drive themselves so they have to rely on other sources of transportation. This dependency at times can be very stressful - driver's are late, lacks driving skills, there are difficulties with arranging rides, and there are long times between drop offs and pickups.  
Individuals with a physical disability like Tetraplegia often are dealing with multiple health challenges at once, so "Telehealth" offers them the ability to meet with their healthcare providers without ever having to leave their home. For people like myself, "Telehealth" offers an alternative way of obtaining medical services through the use of technology, in many ways it is more beneficial than having to be there in person.