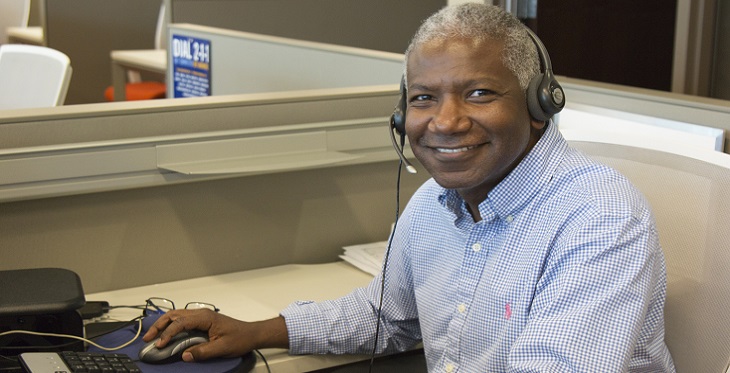 It wasn't just the temperature that surged in Phoenix last summer.
From April 1 through September, as temperatures climbed to as high as 119 degrees, the staff at 2-1-1 Arizona responded to more than 25,000 phone calls, the great majority of them from people asking for help paying their electric bills.
2-1-1 programs are a free and confidential service accessible to more than 90 percent of Americans.  In addition to people seeking financial assistance with utility bills, 2-1-1 programs hear from people needing assistance with rent payments, food boxes, healthcare, child care, finding jobs and other needs.
2-1-1 programs are available in all five states affiliated with the Southwest Telehealth Resource Center: Arizona, New Mexico, Colorado, Utah and Nevada. They are easy to locate at http://www.211.org/, by typing in your zip code or city, and your state. Here we describe three of these programs.
2-1-1 Arizona
During the 2015-2016 fiscal year, 2-1-1 Arizona received about 64,000 phone calls, and nearly 62,000 messages on its interactive voice response system, which that offers recorded information that guides people to the source of help they need. In addition, 2-1-1 Arizona's online database recorded close to 460,000 searches for information.
"We want to be able to reach out through every channel we possibly can to help people," says Steve Eastwood, a certified resource specialist with Information and Referral Services in Phoenix, who oversees 2-1-1 Arizona.  2-1-1 Arizona serves the entire state, operating primarily on funding from Valley of the Sun United Way in Phoenix, and United Way of Northern Arizona, based in Flagstaff.  Eighty percent or more of the people it assists live in Maricopa County, Eastwood says. The second-largest call volume comes from Pima County, he says, "and then it tails off for the rest of the state."  2-1-1 Arizona is in the process of merging with Crisis Response Network in Tempe.  Now available to callers Monday through Friday, plans are in the works to expand the program's schedule to 24/7.
United Way 2-1-1 of Utah
United Way 2-1-1 of Utah, based in Salt Lake City, belongs to a coalition of United Ways that operate two call centers; one in Salt Lake, the other in Provo, which are available to callers 24/7. Chiara Cameron-Wood, managing director of 2-1-1 of Utah, says her organization received about 85,000 calls for assistance last fiscal year, mostly from people with housing needs, including rental assistance and homeless shelters.
"Help with utility payments is usually around 15 percent to 20 percent of the calls, but we also hear from people seeking legal help and health care," Cameron-Wood says.  "People call to find out if they should see a doctor, or if they need to go to a hospital."
 During the 2014-2015 measles outbreak that started at Disneyland and spread, 2-1-1 of Utah assisted the state Department of Health department by taking messages from anxious callers who had been in California. The program also works with the Centers for Disease Control and Prevention's Flu on Call project, which connects people who think they have the flu with health professionals.  "We have trained people who can handle those calls and other public health questions," Cameron-Wood says.
In addition to phone calls, 2-1-1 of Utah has increased its call volume by installing mobile phone text and chat systems. "We use all the technology that we can," Cameron-Wood says.
Mile High United Way 2-1-1- Help Center
The Mile High United Way 2-1-1 Help Center is one of five that work collaboratively in Colorado. Mile High covers 17 counties; 11 in the metro Denver area.  The center received over 78,000 requests for assistance last year. From July through September of this year, the center handled 19,938 inquiries. Nearly 19,000 of them were phone calls. The rest were text messages, emails, walk-ins and live chat. Sixty percent of the callers were looking for rent payment assistance, another 5 percent asked for rental deposit assistance, and 8 percent were seeking motel vouchers or emergency shelters.
Child care also was one of the top five needs that callers identified. But rather than just give the caller names of some nearby child care centers, Mile High also advises callers on how to recognize a quality child-care provider, says Fermin Avila, director of Mile High United Way's 2-1-1 Help Center. "When a caller tells us  'I need some help with my rent payment,' That's a need that's easy for us to respond to," Avila says. "But we also try to find out what's behind that need. Are they looking for a job, and if they are, what kind of job would they like to have. Our goal is to help as much as we can."
Chiara Cameron-Wood, managing director of 2-1-1- of Utah, shared what motivated her to be part of the 2-1-1 program.
"Twelve years ago, my husband died and left me with four children to figure out a life for," she says. "I used the very services we refer people to, to stabilize my family while I went to school, giving me time to dedicate to my education and to my young children, who were 10, 5, 3 and 1. After several years of hard work, I was able to get a bachelor's degree in psychology and a master's degree in human services. That's what ultimately led me to the job I have now."