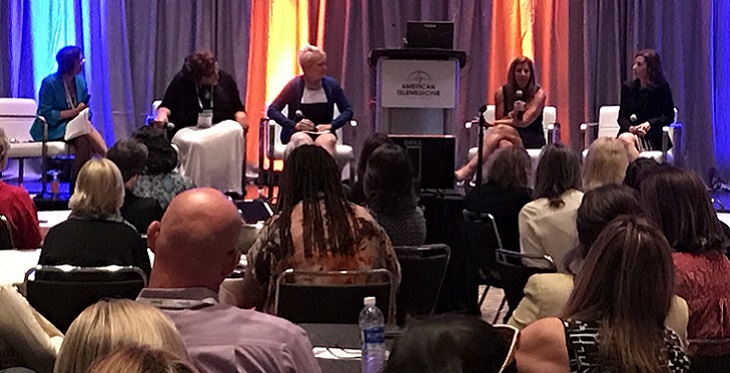 We all know that telehealth is driven by the desire to make affordable healthcare available to anyone, anytime, anywhere, and that advances in technology have facilitated the effort. But what powers telehealth and even healthcare general? At the American Telemedicine Association's Annual Meeting (April 23-25, 2017 in Orlando, FL) the answer was clear – women!
There was a special "Women in Telehealth Spotlight" session with Charlotte Yeh, MD, PhD, FACEP (AARP Services, Inc.) moderating with panelists Paula Guy (President & CEO, Salus Telehealth), Julie Hall-Barrow, EdD (VP Virtual Health & Innovation Children's Health, Dallas), Susan Dentzer (CEO Network for Excellence in Health Innovation), and Kristi Hendersen, DNP, NP-BC, FAEN (VP Virtual Care & Innovation Seton Family Healthcare Ascension Texas Ministry).
In attendance were what looked to be about 500 women with a smattering of men. The stories were fascinating and filled with humor and insight regarding how these women in particular made their ways into telemedicine and then made their lasting impressions on the field. They discussed their challenges in general and those specific to them as women – unfortunately not the first time we've all heard similar stories and likely not the last. For example noting how tolerance for failure by women in leadership (and really all) positions is much lower for women than men (just read the news!), and how women are not only often held back and criticized by men but often much more so by women themselves. The famous quote by Madeleine Albright (Secretary of State 1997 – 2001), "There's a special place in hell for women who don't help each other", was noted and met with cheers in this respect!
But that's not the side to remember – it's the winning side that really matters. It's the fact that women make up the majority healthcare workers in nearly every facet. More often than not a patient's first encounter with the healthcare system is with a woman and telemedicine is no exception. Increasingly we are seeing strong and creative women take the reins of healthcare as critical C-suite members, drivers of reform and policy, and entrepreneurs starting their own healthcare companies.

 

I noted during the discussion period that in its nearly 25 year history, the ATA has had only 4 female presidents out of 19 (21%) – Jane Preston, MD (the first ATA President), Thelma McClosky Armstrong, Elizabeth Krupinski, PhD and Karen Rheuban, MD. So what can we do? Much of the discussion focused on mentorship. Go out and find a woman (young, old and anything in between) and be her telehealth mentor. One member of the audience pointed out that increasingly supervisors tend to be younger than those they supervise but don't let that stop you from reaching out to them to be a mentor – it's their experience that matters not their age. Open up doors that you opened or were opened for you and help someone else go through them. Build formal and informal networks that support and promote women in healthcare. Be BOLD! It's authenticity that matters – being true to ourselves, our colleagues, our patients, our gender and our cause.
If you aspire to a leadership role in telehealth and/or the ATA there are paths. Join a Special Interest Group (SIG) and start volunteering to get things done. Do research, write papers and submit abstracts to the annual meeting. Offer to join ATA committees, but expand beyond ATA as well to your individual professional societies, your institutions and your own leadership – simply get involved! Recognize organizations, companies and individuals that recruit, support and promote women in telehealth – maybe even establish an award for the organization that excels in these efforts.
"I always believed that one woman's success can only help another woman's success" - Gloria Vanderbilt