Every now and then it's good to sit back and reflect, take stock and think about where you're going next. In the grant world, this happens on a regular basis – every time you want to submit a new one or if lucky submitting for a continuation or renewal. The SWTRC has been successful in obtaining funding since its inception, but this cycle was a little different. The SWTRC is funded by HRSA, the Health Resources & Services Administration. Specifically by the Office for the Advancement of Telehealth (OAT). So what could be new if we've been "in business" for nearly 10 years?
One change happened at OAT itself – Bill England, PhD, JD is the new Director (formerly Vice President for Rural Health Care at Universal Service Administrative Company) and Natassja Manzanero, MS is the new Program Coordinator for the Telehealth Resource Centers. Both have solid experience in public health, Telehealth and a variety of other relevant aspects related to both.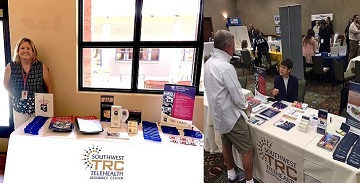 Another change is the switch from being funded by a grant mechanism to a cooperative agreement. What's the difference? From the perspective of our "customers" or those seeking our services, there really is no difference. We will continue to offer the same high-quality training, technical assistance and other services as usual. From our perspective, the difference is one of degree of collaboration with the funding agency. According to OAT, grants provide "money, property or other direct assistance in lieu of money, or both, to an eligible entity to carry out an approved project or activity in support of a public purpose and not the direct benefit of the government. A grant is used whenever the OPDIV (operating division) anticipates no substantial programmatic involvement with the recipient during performance of the financially assisted activities." A cooperative agreement on the other hand is "used when there will be substantial Federal programmatic involvement. Substantial involvement means that OPDIV program staff will collaborate or participate in project or program activities as specified in the Notice of Award."
Finally, as we move forward there will also be far more collaboration with the National Consortium of Telehealth Resource Centers (NCTRC). The 12 regional and 2 national (technology and policy) resource centers have been informally operating as a consortium for a number of years now - sharing expertise and experience, hosting joint events and banding together at various national conferences to project a uniform front to the healthcare community. The NCTRC works collaboratively in a formal arrangement to pool equal shares of resources to achieve common objectives and create materials used nationally and adapted for regional purposes so resources and funds receive maximum use while eliminating waste and duplication. This collaborative effort provides a consistent, informed and accurate voice on issues related to TH nationally, reducing confusion and misinformation to the public. Some joint NCTRC efforts include educational materials, presence at national conferences, a shared website, and curation of TH studies and evidence that is publicly accessible. This collaborative efforts ensures that objective and accurate information related to TH is relayed efficiently throughout the nation.
Our work plan for the coming few years builds on the fact that the SWTRC has spent over 8 years developing the infrastructure, methods, and tools to effectively and efficiently reach out to the Southwest region and provide training and TA services. We have fielded more than 3,500 training and TA contacts since the program started, and feedback to date has been very positive. Our website is already well-established and is the main vehicle for prospective clients to contact us. The SWTRC has successfully collaborated with partners in AZ, CO, NM, UT, and NV and the Four Corners Telehealth Consortium (FCTC) to promote TH and provide the training and resources necessary to establish and sustain programs. We work with the regional HRSA FLEX programs, providing webinars on both basic and advanced telehealth topics. We work with regional Departments of Health Services and Public Health Services. We disseminate our expertise and research findings by presenting at national healthcare and TH meetings.
So looking forward – our goal is to stand by our motto of "We Are Here for You!" and continue to promote and expand the implementation and use of telemedicine in the Southwest. We encourage you to contact us, collaborate with us, and grow with us!